4 Must-Use Learning Management System Plugins for WordPress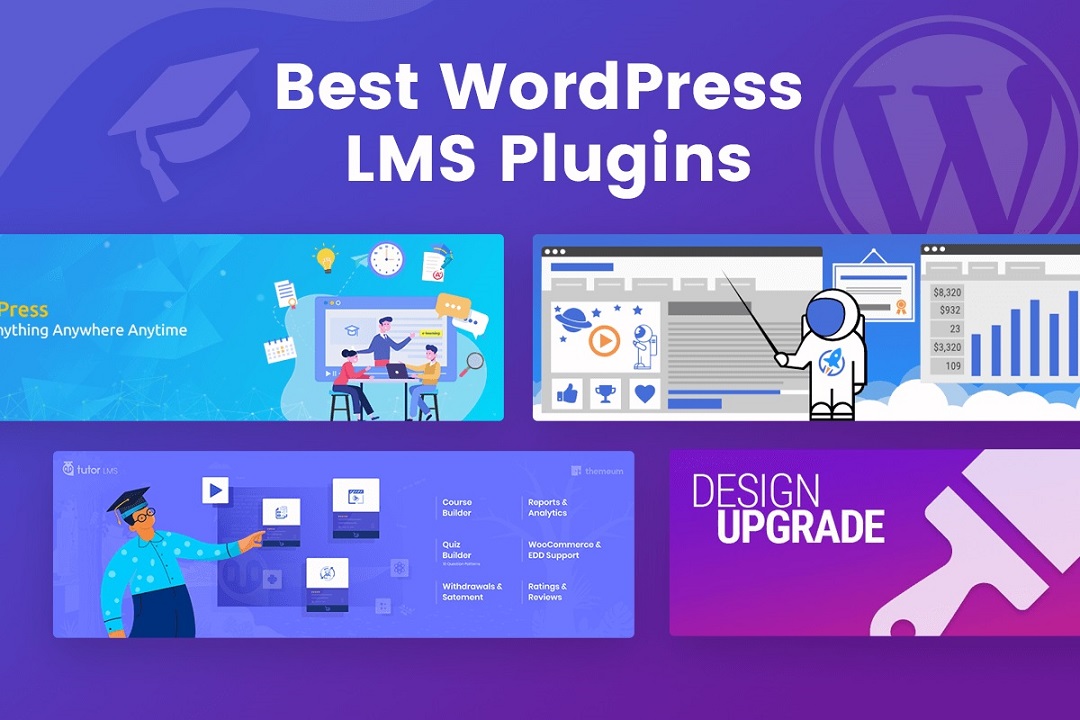 Nowadays, online courses have become very popular because they allow people to learn without spending a lot of money. So, suppose you are interested in putting your knowledge online and creating courses online. In that case, you should choose some of the best WordPress LMS plugins. The learning management system plugins help you add all kinds of learning features to WordPress to create and deliver a course to people.
LMS are very flexible. Besides the fact that they allow you to create the content, update it and change it when you want, they also can be about whatever you want. You can create more complex courses that can be used for work such as software development, design courses and even how to write an essay course that can provide the essay services with all the needed guides and essay help. And also, more basic ones that can be used in academic education that will work as assignment help for the students such as math or language courses.
With all of that said, let's look at the best plugins for WordPress that are available today.
LearnDash
LearnDash plugin has been developed based on their developer's knowledge and experience that has been gained from working in that sector. And it becomes very popular among teaching and learning professionals, and you can constantly see it being used at colleges or schools.
With this plugin, you can create multi-tiered courses, add timers to your lessons, and market all the courses with monetization tools such as membership, shopping carts, subscriptions, etc. They also offer group management, send constant email notifications, support most media types, and many more.
The price is set on an annual basis. For one website, it costs $159. For 10, the price goes to $189, and for 25 websites' support, it costs $329, so it is affordable. But the only disadvantage may be that they don't offer a free trial. However, they allow you to cancel within 30 days if you don't like the plugin.
Learn Press
This one is known as the cleanest and simplest choice between all the WordPress LMS plugins. It is completely free, and the customer support may not be that good as with the premium ones, but it still offers amazing features. It includes a leading page template in which you can add course descriptions. It allows you to have more instructors in one course. It includes a huge collection of payment gateways, etc.
Although if you want to create a more in-depth course, you will probably need to activate some add-ons, and you can spend up to $30 for a payment gateway integration and up to $50 on a theme, but the good thing is that you are not stuck paying an annual fee.
Sensei
Sensei has an extension for WooCommerce, an addition to an eCommerce store that wants to include online courses and video. The premise is very simple, you create the course, write the lessons and add the quizzes, and the user registration is also included. The adding of the WooCommerce elements is also simple but not necessary. Because Sensei can function properly without the theme.
Sensei plugin offers you to work with almost any WordPress theme, and the user registration is also done through WordPress, it allows you to instantly charge for a course, the analytics provide information on course completion, registration, and grading, several templates are offered for the quizzes, the grading can be set to manual or automatic, etc. The annual pricing starts at $129 for one site and goes up to $279.
Tutor LMS
Tutor LMS is the most recent addition from the others above, and yet they have more than 20,000 eLearning students. It offers many unique features such as drag and drop quiz creator, development support, fronted course builder, etc. The site's building is fully customizable, covers all types of content media, has student forms as a way to bust communication, and offers useful add-ons like assignments, grade books, and certificates.
It also easily allows you to switch platforms, and currently, they support Learn Press and Learn Dash, but the list will keep growing.
The core plugin is free, although if you want to create something better, they offer a premium plan starting from $149 for one site. And that allows you to use some of the premium add-ons, and offers you to use integrations with zoom for live video classes, Google classroom for robust communication, and Elementor for an amazing, customized building experience.
Conclusion: You can never go wrong with any of these LMS plugins if you want to create an online learning platform on WordPress. However, it all comes down to your particular needs and what exact features you would like to see in your online classroom.