In today's era, a growing business, be it small or big, requires communication with customers. It is said that communication is the key to success for every business. So, if you want to reach every customer of your company then SMS is the best way for you.
Sms marketing plays a key role in today's business. It is quite impossible to send SMS one by one to thousands of customers so we have the SMS marketing softwares. There are plenty of SMS marketing softwares which are available in the market. It will create confusion whenever you try to select.
To help you in this situation we have gathered here a bunch of the 10 best SMS marketing softwares that can be used for business purposes. You can get all the information about these softwares along with their features and prices. So, without wasting time let's take a look at these SMS marketing tools.
What is SMS Marketing?
It is the process of sending messages to the customers. These messages are promotional, transactional, and sometimes for notification purposes. Today every person has a mobile phone, it becomes easier to reach every person by SMS marketing. If you are a business owner then you must have to know SMS marketing to grow your business at a rapid rate.
Best SMS marketing softwares are as follows:
Salesmessage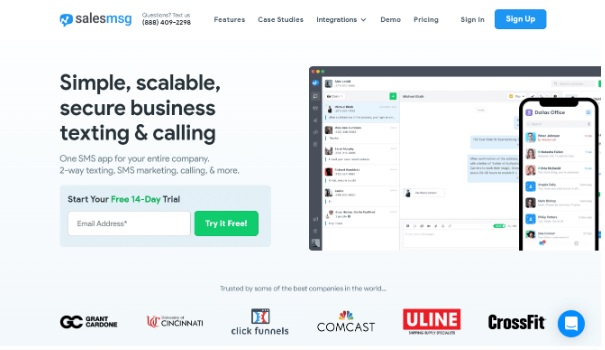 Salesmessage is the SMS marketing tool that helps reach out to potential customers of your business. It is simple and beginner friendly so by using this tool you can communicate with your customers effectively. It is a trusted SMS marketing tool by various brands and multinational companies. It comes with a simple and easy dashboard that can be managed according to your needs.
Features of Salesmessage:
Works as two-way business texting, sending SMS, receiving SMS, managing SMS, and handling other online conversions.
Communicate with customers as they prefer, sales message able to communicate with local numbers, toll-free numbers, by using shortcodes, etc
Private as well as shared inboxes are available
Text, call both are available
All kinds of options are available like video SMS, website chat, pdf attachment, group SMS, call analytics, call recording, etc
Pricing of Salesmessage:
For 500 messages= $25/month
For 1000 messages= $49/month
For 2500 messages= $99/month
For 5000 messages= $179/month
For 7500 messages= $249/month
For 10k+ messages= Custom pricing
Pros of Salesmessage:
Easily customizable according to the business needs
It can be operated internationally as well as locally
CRM integration is available for flawless work
Works for calls and messages
Cons of Salesmessage:
Due to overload, sometimes the system slows down
Slicktest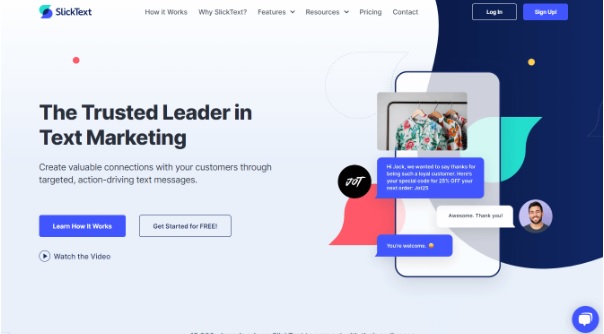 Slicktest is another best SMS marketing software available on the internet. About 15000 brands trust this software for their SMS marketing purposes. Global brands like Samsung, Canon, and other such brands use slicktest. This tool is great for building long-term marketing relations as well as to take a business to a high level.
Features of Slicktest:
Text to join option is available so people can directly join the SMS
You can build option forms and landing pages on your websites
For websites you can build website popups, that can capture the visitor's eye
Opt-in links help to grow the business. Sms marketing
You can generate a unique QR code for your customers so that they can join your company's offers
The email capture option is also available
One-to-one texting, mass texting, picture messaging, personalization, text win contest, text surveys, promo codes, loyalty rewards, and coupons all are included in it
Its workflow is completed automated
You will get detailed analytics of your work
Navigation integration is also possible with this software
You can manage your account easily from here
Pricing of Slicktest:
Basic plan = $29/month
Step Up plan = $49/month
Lil Bro plan = $79/month
Big Bro plan = $139/month
Boss plan = $189/month
AlbaTross plan = $350/month
Whale plan = $750/month
Monstro plan = $1250/month
Pros of Slicktest:
Sms autoresponder
Sms texting with shortcodes
Opt-in options available
Good for landline texting
Cons of Slicktest:
Customer support is a little bit slow
EZ Texting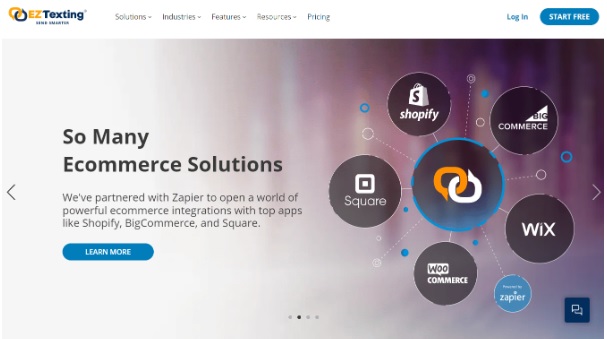 EZ Texting is a good business management tool. This tool is more than just texting. Besides texting this tool can handle marketing, sales, calls, operations of HR, etc. it has strong customer support, EZ Texting supports a wide range of industries such as education, hospitality, rental, travel, entertainment, etc. it is cost-effective with affordable plans.
Features of EZ Texting:
Send pictures, and videos along with SMS with the help of MMS texting
Campaign remainders plays important role in reminding the customer payment, customer appointment, etc
Text forwarding helps to forward the message to alternate numbers if the number is not in the network
Pricing of EZ Texting:
Value plan = $19/month
Essential plan = $29/month
Premium plan = $49/month
Custom plan = $299/month
Pros of EZ Texting:
Sms autoresponder
Opt-in options available
MMS texting is available
Opt out is easy for customers
Cons of EZ Texting:
Limited characters single text about 160 only
Twilio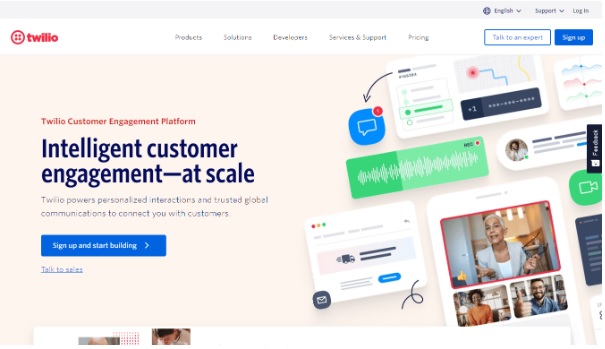 Twilio is another best SMS marketing software. It is a dedicated software that not only manages SMS but also looks after all the important aspects of dealing with a customer. It can improve customer engagement. It has an API that is flexible for multiple applications. Another great advantage is along with SMS it provides WhatsApp messaging, and MMS messaging. Twilio helps to leverage all the possible ways of customer engagement and management of all marketing strategies.
Features of Twilio:
Twilio is compatible with more than one channel, it is profitable for adaptability as well as scalability
No required professional skills to learn, your team can easily handle this software as this is user friendly
Twilio comes with a global network that helps businesses to reach customers from worldwide
It is a multifunctional tool you can use for SMS marketing or otherwise for offering customer support
Pricing of Twilio:
Programmable voice = $0.0085/min to receive and $0.013/min to make a call
Programmable messaging = $0.0075 to send or receive a message
Twilio SendGrid email API = $14.95/month for up to 40k emails. Up to 100 emails per day for free
Whatsapp business API = $0.0042 to send a WhatsApp Template message and $0.005 for WhatsApp Session messages
Elastic SIP trunking = $0.0045/min for origination and $0.007/min for termination
Twilio conversations = $0.05 per active user per month
Pros of Twilio:
Multiple channel support is available
No professional skill is required to handle it
World wide network
Category Wise pricing
Cons of Twilio:
Customer support is a little bit slow
Klaviyo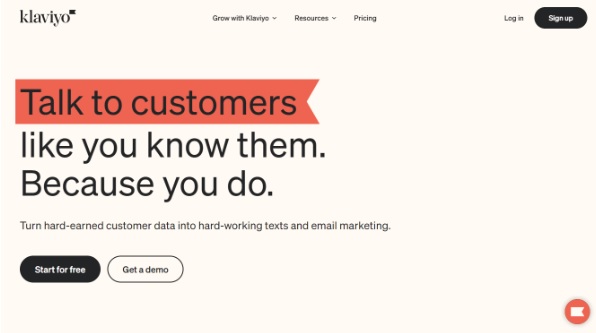 Klaviyo is the software used for SMS marketing. It offers the best personalization and helps to derive sales by targeted communication. It works in the integrated form which can be used for SMS, email, call, etc. this is the all-in-one software for business companies. If you are looking for an integrated version then this software will serve you the best.
Features of Klaviyo:
It is user friendly, no professional skills are required to handle it
Messaging can be done instantly to a wide range of customers, it keeps your potential customers up to date by sending all kinds of notifications to their inboxes
It is CRM independent tool, it doesn't require any special tool for its management. Just integrate this with your website and be stress-free
It contains so many readymades templates there is no worry about sending the perfect message than can be pleasing
Pricing of Klaviyo:
Free version for new account = 500 emails/ month
Paid version for 1001 to 1500 contacts = $45/ month, 15000 emails in month
Paid version for both email, SMS = $60/ month, 15000 emails in month
Pros of Klaviyo:
Both SMS marketing and email marketing are available
Messaging can be done instantly
Includes readymade templates
Pricing can be customized according to the need
Cons of Klaviyo:
SMS sequence cant be changed
SimpleTexting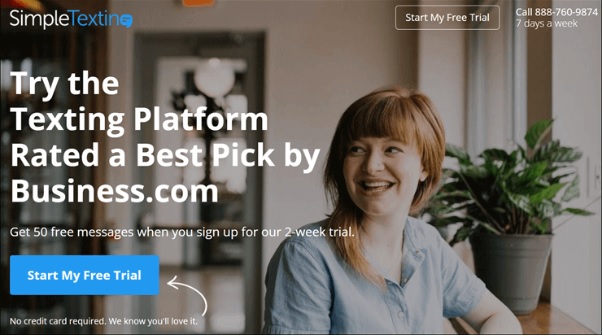 To assist your business and to run marketing campaigns here comes Simpletexting. Simpletexting helps businesses to run business campaigns through SMS marketing. It has features from basic to advanced. It has readymade segments, templates, SMS templates, etc which are used for unique campaign purposes. Simpletexting makes it easier to send messages in bulk at a single time. This software has its mobile app version so it is much easier to handle it from your mobile device.
Feature of Simpletexting:
Its workflow is completed automated
It can be accessed by multi-users
Two-way messaging can be done with it
Tool integration is available
Pricing of Simpletexting:
Price Starts from $29/ month for 500 credits
Pros of Simpletexting:
Two-way messaging can be done with it
It has a simple dashboard
Only SMS marketing can be done with it
Cons of Simpletexting:
The dashboard seems to be crowded
Textedly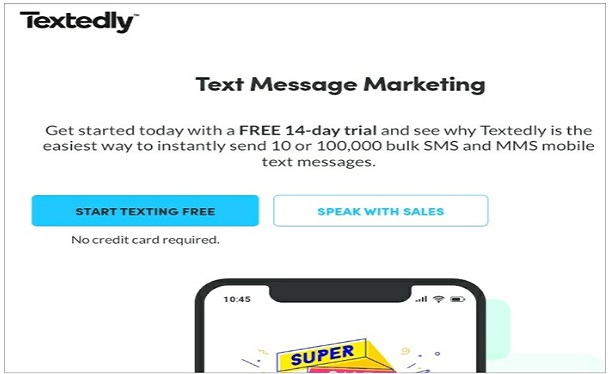 Textedly is the SMS marketing software that is of two way communication. It can do a wide range of work regarding marketing. It supports multiple texting, text scheduling, managing and sending emails, long text SMS sending, link sharing, social media texting, data securing, information sharing, etc.
Features of Textedly:
Bulk message texting
Sms autoresponder
It is effective in managing the campaigns
It has the standard text limit of 160 characters
Text scheduling is also available for SMS marketing
Pricing of Textedly:
Starter plan = $0 per month
Bronze plan= $24 per month
Plus plan= $39 per month
Enterprise plan = $50 per month
Elite plan = $70 per month
Business plan = $140/ month
Silver plan = $210/ month
Premium plan = $350/ month
Pro plan = $500/ month
Gold plan = $700/ month
Platinum plan = $1400/ month
Diamond plan = $2100/ month
Champion plan = $2800/ month
Pros of Textedly:
It is recommended for its cost-effective plans
There is no need to subscribe the unnecessary plans while using textedly
Can easily exceed the standard limit of text characters
Sender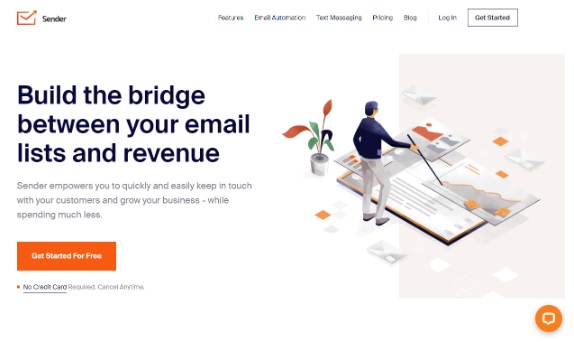 The sender is an effective email marketing tool. It comes with a set of extremely important tools for marketing. Its main aim is to provide seamless communication to the customers at affordable prices. Due to the growing popularity of SMS marketing, this tool has extraordinary features.
Features of Sender:
You can create effective, creative text messages for customers
You can send personalized messages to your customers
Targeted message sending is also available.
Able to send hundreds of messages at a single time.
Pricing of Sender:
Its basic plan is free
Standard plan = $41.75/month up to 20k subscribers
Premium plan = $208/month up to 20k subscribers
Enterprise plan = Custom pricing
Pros of Sender:
Automated email marketing options
Pricing is flexible
Response is good
Cons of Sender:
Limited access to the software resources for beginners
Engagebay
It is one business marketing tool. It helps businesses boost online sales and to generate better revenue. It helps to build up long-term relations with your business clients. It's good for beginner companies and it is also cost-effective.
Features of Engage Bay:
Engegebay provides flexible workflows to the clients
Action trigger messages help to deliver the right messages at the right time to the potential customer
Unlike other marketing softwares, this software gives the option of personalization. You can change your messages as you want
Able to plan messaging schedules
Pricing of Engage bay:
Basic plan = $11.99/user/month
Growth plan = $39.99/user/month
Pro plan = $79.99/user/month
Pros of Engage bay:
Customizable personalization
Workflow is flexible
It is free for 15 users
Onboarding is free
Cons of Engage bay:
Only combo plans are available, separate SMS plans are not available
Omnisend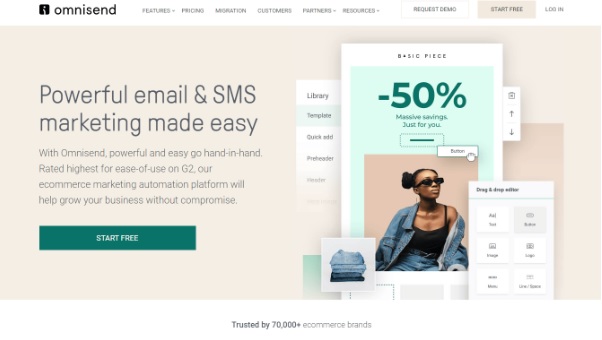 Omnisend is also an SMS marketing tool that is very easy to use. It is trusted by over 7000 brands including some global brands. Not only for professionals but also for beginners it is the perfect tool for managing the business. Omnisend helps to create the most powerful and effective SMS marketing campaigns for your business.
Features of Omnisend:
It is much easy to set up and use
This tool can be personalized for every channel
It has a global reach and works worldwide
All kinds of SMS toolkits are available to assist your business
Pricing of Omnisend:
The pricing depends on the number of clients of the company
The plan starts from $59/month
Pros of Omnisend:
Userfriendly
Global reach
Easy to set up
Wrapping up
Communication is necessary to reach out the potential customers. All the above-mentioned tools are perfect for easy communication with your clients. All the SMS marketing tools are the best, just have some slight differences in them. Extra features make their plans slightly expensive so according to your need you can customize these tools for your business. Hopefully, now you are better known about the best SMS marketing tools nowadays. Use these tools and achieve your business goal