Detailed Guide to Recoverit Photo Recovery App for Windows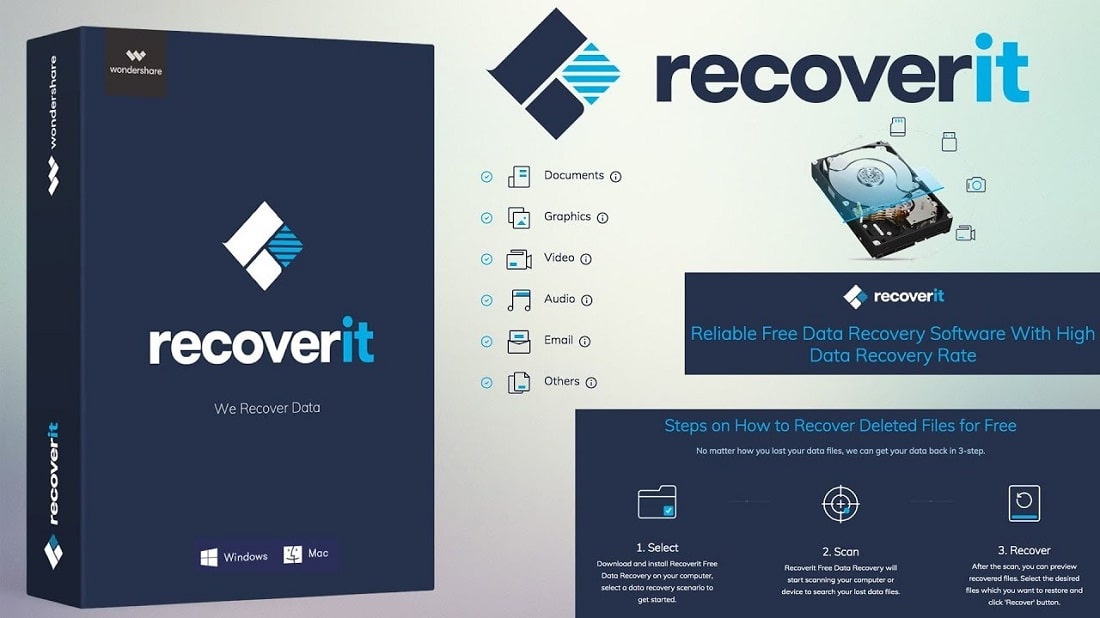 Images play a major role in our lives. In fact, it is the only living part of our memory that reminds us of all those beautiful moments. Apart from emotional, there are various professional reasons also that state the importance of images. Many important certificates and documents are stored in image format which makes all of it accessible through one point instead of carrying bundles of files along with us.
With emerging technologies such as smartphones and high definition cameras, pictures are so easy to be taken these days. In the same way, it is so easy to lose it which is a common problem these days for everyone.
There are so many reasons for a picture to be deleted or lost.
• Accidentally deleting pictures is one of the most common ways.
• Other than that flashing the system, formatting or improper transfer are other major reasons.
Now here is a photo recovery that lets you bring back those precious images.
Part 1: Recoverit Photo Recovery Software
Features:
Recoverit is a unique deleted photo recovery app that uses a very versatile and advanced technology resulting in many efficient features.
Some of them are listed below:
• Recovery of deleted pictures
All deleted pictures can be recovered very easily using this photo recovery app.
• Recycle Bin Recovery
Even those images that are deleted from your PC's recycle bin can be recovered using simple steps by this app.
• Recovery from formatted disk
Images deleted or lost while formatting the disk can be recovered. This is a feature that is not very common in many of the image recovery apps.
• Recovery due to virus attack
Virus attack on the system causes images to be deleted without your knowledge. You would recognize that they were lost only after you search for those images. The Recoverit photo retriever tool with no hassle recovers such critically lost images also.
Versions of Windows supported by Recoverit photo recovery app:
This PNG recovery software from Wondershare is compatible with almost all the widely used versions of Windows.
The versions that are supported by this app are listed below:
• Windows 10
• Windows8
• Windows7
• Windows XP
• Windows Vista
Pros
• Recovery from damaged and corrupted devices.
• It is a highly rated photo recovery app.
• Simple steps in which images can be restored.
• You can restore up to 10 media files for free with no size limit whatsoever.
• You pay nothing if your images aren't recovered.
Cons
• None so far.
Installation of the app is absolutely free, proceeding that there are two versions.
• Paid version
This version provides various perks such as restoration of deleted images no matter how many. Also, the speed of execution is way high.
• Free version
The free version is no way inferior. You can work get back 10 images at no cost irrespective if the file size.
Part 2: Way to Digital Photo Recovery on Windows:
Now, let us move on to a detailed step by step explanation on how to get deleted photos back on a Windows system.
Initially, install the Recoverit photo recovery app in the system that contains the deleted images. After installation, there are two methods you can use which are given in detail below.
Step 1: Select a disk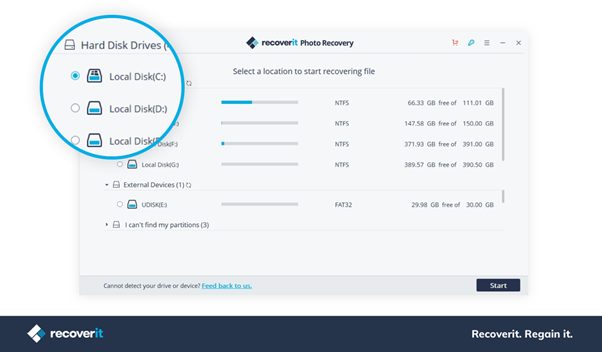 Select the disk in My Computer of your PC from which the lost or deleted pictures are to be restored.
Step 2: Scan files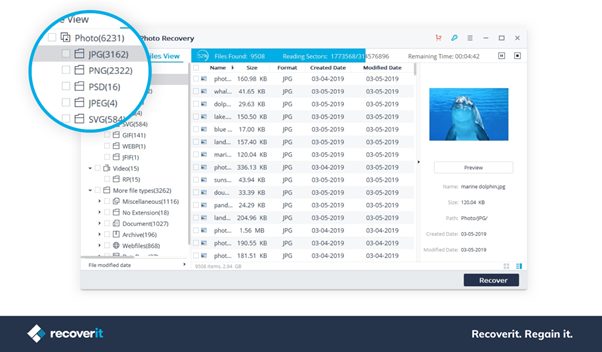 All the pictures in the disk will be scanned automatically by the Recoverit photo recovery app.
Step 3: Preview and recover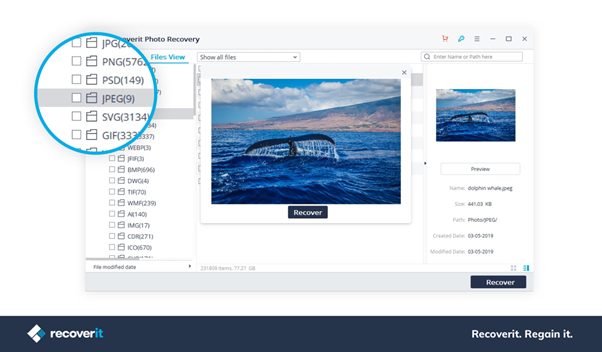 Now select the deleted images that you want to be recovered.
Note: You will notice here the preview option as well. It will help you have a clear view of the image before you decide to recover it.
That's it! So, by the end of these steps, the important pictures that you had lost or deleted will be restored again in your system for you to access easily.
Conclusion: Recoverit photo recovery tool is one of the most commonly used and highly rated apps for recovery of deleted or lost images. It has been reviewed as the most efficient photo recovery app for Windows. The small and easy method of execution makes the recovery process a piece of cake!
So, if you ever delete or lose pictures again, stay relaxed and simply install Recoverit photo recovery app instantly.
Tags: Recoverit Photo Recovery, Recoverit Photo Recovery Software, Recoverit, Recoverit Wondershare