How tournaments are taking over the gaming industry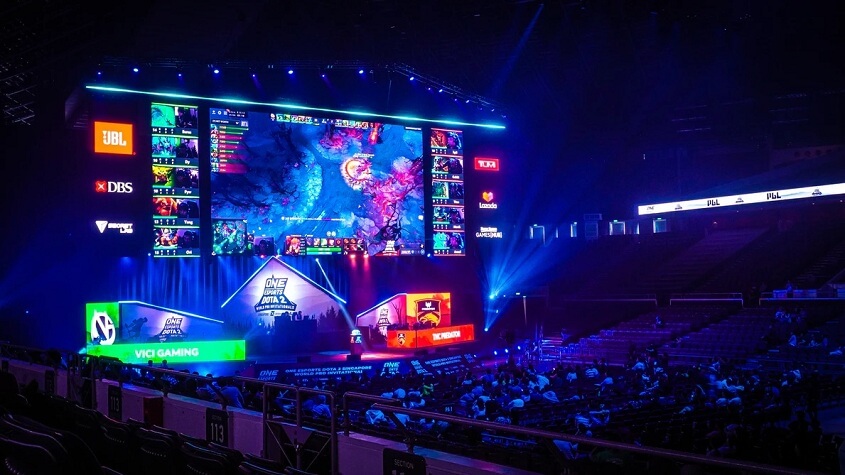 It wasn't all that long ago when the concept of online gaming was quite blurry for most folks. While the possibility to connect with other players online on your PC had always been around since the dawn of the internet, not everyone had a stable connection or even a PC.
But fast forward a couple of decades and the ease with which you can now share an internet connection from a smartphone has been a major game-changer. We now have a global population with near-universal internet access, and it has changed the gaming landscape forever.
And part of that change has been the adoption of the tournament format inspired by early versions of online poker events.
Developers following online poker's lead
Online poker platforms have appreciated the importance of tournaments since the beginning of the 21st century, way before esports became mainstream. They understood right from the off, that it's what their players expect and so they've worked hard to create secure environments not just for regular games but full-blown live events too. As a result, many of the big hitters in the industry such as 888poker offer a range of poker tournaments to this day to suit players based on their experience and skill level.
These include Sit & Go Tournaments where up to 360 players compete for one of three main prizes, Heads-up Tournaments which are one-on-one events, and Multi-Table Tournaments that allow players to buy-in for a set price with the top 10-15% of players getting payouts.
But perhaps the most successful is the Satellite Tournaments. These are low buy-in tournaments that offer winners tickets to high prestige events. This is how amateur poker players can win themselves a seat at events like the World Series of Poker (WSOP).
If you're familiar with staples of esports, then the concept of big tournaments may look pretty familiar. That's because the same formats are used by gaming developers as they look to build excitement around their game. Take FIFA for example. Gamers that want to qualify for the FIFA eWorld Cup need to play in live head-to-head qualifiers that take place in qualifying tournaments, much like those poker satellite tournaments we just mentioned.
Then we have the Battle Royale-style events in games such as Fortnite. These events see players face off against hundreds of opponents in a winner-takes-all tournament similar to poker Sit & Go events.
In fact, inspect many online tournaments and it's easy to see how online poker has had a significant influence on their formats. And while the gaming industry has been going through a boom for quite some time now, introducing tournaments has taken the industry to another level.
eSports now a thriving industry
The eSports industry has been around since the 70s when video gaming teams played classic titles against each other in small live events. But it's only since the early 2010s that it has taken off on a global scale.
From 2018 to 2023, the global eSports industry looks set to double in market value to hit a staggering $1.6 billion in revenue. But it doesn't stop there. eSports tournaments are now some of the richest sporting events in the world, with prize pools in the tens of millions that rival the likes of the US Golf and Tennis Open. Did you know that the Fortnite World Cup Finals had a prize pool of $30million? That's more than twice the $12.5million prize pool of the US Golf Open!
Viewership numbers are also on the increase with an estimated 2 million people live streaming the Fortnite World Cup Finals. According to research, there are about 272 million eSports spectators around the world right now with 223 million of those being regular viewers. Once again, that figure is also expected to rise to around 351 million by the year 2023. And as you may have guessed, these figures are all centered around live tournaments.
As you can see, there is obviously an immense demand for tournaments in gaming from a spectatorship point of view. That demand along with the inclusivity of gaming has seen the popularity of tournaments skyrocket overnight. Gamers know that if they dedicate themselves to their favorite game, they stand just as much of a chance as anyone else of making it through to a big-time live tournament.
Engagement rates a key success factor for a new game
Another potential reason for the adoption of the tournament format is that engagement is now seen as a key driving force behind the success of a gaming title. While video and online games by their very nature require active involvement from players, there are varying levels of engagement that can ramp up interest in a title.
Therefore, games like Fortnite are so incredibly popular. The gameplay itself is good and the graphics are impressive, but anyone who has played in creative mode before will know that it can get a little boring playing on your own. Much like Minecraft players often prefer survival mode, Fortnite players prefer to engage with other players in a tournament-style environment.
This emulation of live and professional tournament formats also feeds into a player's belief that they too can win the Fortnite World Cup if they practice long and hard. After all, the previous winner was a 16-year-old Kyle 'Bugha' Giersdorf and if he can do it, then anyone can.
This is music to the ears of developers who understand all too well that by investing significantly in live tournaments and their prize pools, they are encouraging astronomical levels of engagement on their gaming titles. In short, tournaments are good for business.
As professional eSports continues to grow in popularity, so too will live tournaments and the tournament format in online gaming. You might even say that tournaments have already taken over the industry and who would have thought that it's all thanks to the poker industry.