Today's post will teach you exactly how you can enjoy online casino games for free.
In fact:
These are the exact strategies that we used to improve our gambling skills and learn more about the casino without spending hundreds of dollars.
So, if you want to know how you can play in the casino without having to deposit money, you will love this guide.
Let's get started.
Why you should try gambling online for free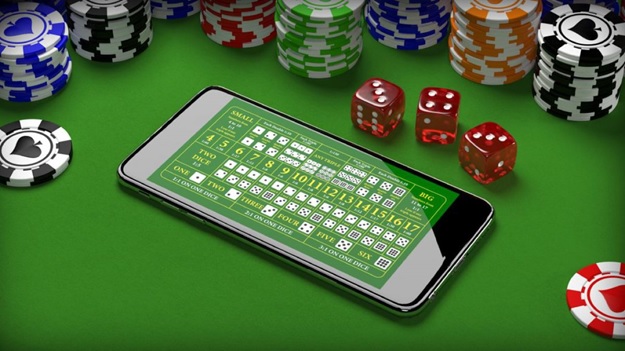 When you're just getting started with gambling, you may think that playing for free is a dumb way to start your casino journey.
We disagree.
Indeed, playing for free may not be the most lucrative way to gamble. However, many casino games require a high skill level before you can start making money from them.
Even if the game is easy to play (e.g., slot machines), it is still a great idea to try it out before you deposit real money. By testing the game in free play mode, you will quickly understand if it suits your style and whether it's worth it or not.
So, can you make real money from free casino games?
It depends. There are some situations where you will be able to claim your winnings, but there will be some playthrough requirements that you must meet before you can withdraw your funds. More on that later.
Now, it is time to discover the four easy ways that you can gamble for free.
Social casino games on your phone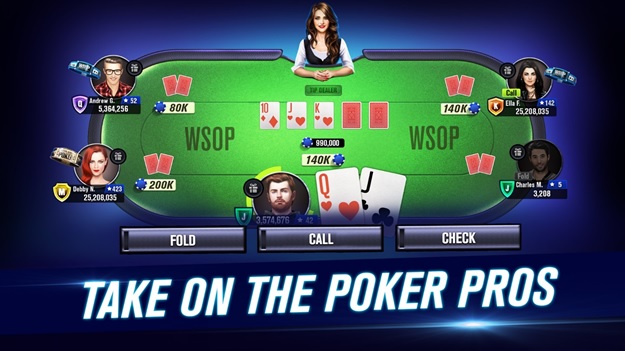 Social casino games are free-to-play gambling apps that you can download directly on your mobile device.
These apps are 100% free, but you won't be allowed to cash out your winnings. They have a leaderboard system that will enable players to compete against each other and determine who is the best gambler in the world.
According to a Gambling Research Exchange Ontario case study, there are over 170 million monthly active users playing social casino games. To put it into perspective, the ratio between social gamblers and online casino players is 4:1.
The demographics show that the average social casino player is a 40-year-old middle-class woman. In fact, women make up 2/3rds of all social casino gamblers. Still, these games are popular amongst all age categories, including teenagers and young adults.
Here are some examples of popular social casino games you can try today:
• Zynga Poker
• Slotomania
• myVegas Slots
• WSOP Official App
• Doubledown Casino
None of the social casino apps have a cash-out option, and the main downside is that the outcome is not based on RNG. Instead, developers use algorithms that improve the user experience and maximize player engagement.
The most popular game type in social casino apps is poker. Many pro players recommend using the WSOP app to get accustomed to the tournament rules and learn how to read your opponents before depositing actual money.
Be aware: Free casino apps do not resemble real money casino games. So, if you are planning to play slot machines, you won't find the same titles available on a common gambling platform.
No deposit bonuses at online casinos
The best way to play casino games for free that also allows you to withdraw your winnings is by claiming a no deposit bonus.
Online casino operators offer new players a free bonus to claim on sign up and test the platform before adding funds to your balance. These promotions usually include free spins or credits that can be used without making a deposit.
This way, you won't have to waste any money on a platform that you don't enjoy while still getting a chance to try it out for free.
Here's how you can quickly get a no deposit bonus, step by step:
1. Analyze your options on a casino database – The online casino market is so large that it would be nearly impossible to manually research each website. Ideally, you want to use a professional gambling platform aggregator like casinobonusca to get access to a complete casino database that you can easily filter through.
2. Choose a promotion and claim it – The database includes in-depth reviews of each platform and bonus. Read the reviews and find a website that suits your needs, then click the "Visit" button, and you will be redirected to the casino's landing page.
3. Sign up on the selected gambling site – Create a new account on that gambling platform and confirm your identity to receive the no deposit bonus. Remember to use accurate information, or the operator will automatically cancel your account, and you won't receive the promotion.
4. Start playing for free – Once the funds are added to your account, all you have to do is choose your favourite slot machine and start spinning the reels for free. The platform will announce you if you run out of free credits and prompt you to the deposit screen.
It's that simple to get your hands on a lucrative no deposit deal.
However, you need to understand that withdrawing the winnings generated from this type of bonus is not so simple. There are wagering requirements that you need to fulfill, and some operators even require you to make a small deposit before you can cash out.
The best practice with casino bonuses is to read the Bonus Terms and find out precisely what you have to do for a smooth withdrawal.
Video games that have gambling features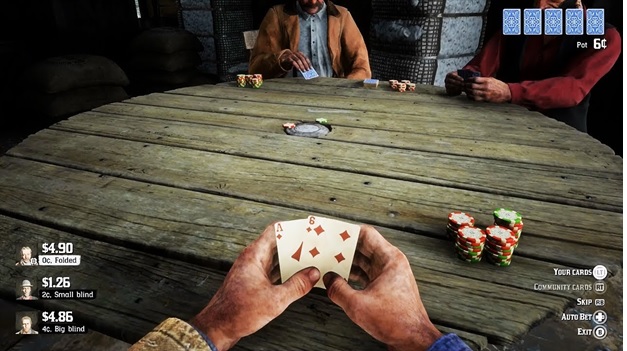 Our least favourite way to play casino games for free is finding video games with gambling elements.
Here is a list of video games that offer you immersive gambling experiences:
• GTA V
• Red Dead Redemption 2
• The Four Kings Casino and Slots
• Prominence Poker
• Pure Hold'em
All the games mentioned above are available on PC, PlayStation and Xbox. While they don't allow withdrawals, they are still a great way to improve your table games skills.
Millions of players prefer playing video games over real money casino titles because they don't require a deposit, and they have next-gen graphics that offer them a unique gambling experience.
Rumours say that in the future, console developers will implement real money features into their games. This way, any gambler will be able to make money by playing their favourite games without joining an online casino platform.
Bonus: The best way to play casino games almost for free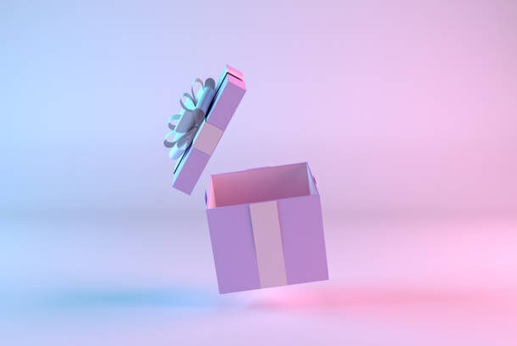 From our experience, the most efficient way to gamble online almost for free is by claiming a welcome package when you join a casino.
Just like no deposit bonuses, welcome promotions are created by the casino operators as a way to lure new customers to join their platform. These promotions usually contain a percentage match bonus and free spins or credits that will be added to your account after your first deposit.
In case you're wondering why we included a method that requires you to deposit in a guide about playing the casino for free, here's a quick explanation:
There is no such thing as free gambling.
In reality, the only thing that you can achieve with the methods we mentioned above is getting a taste of how online gambling feels like.
Still, claiming a welcome promotion is the best deal that you can get anywhere online. These bonuses don't have a large deposit requirement (the minimum is usually $10), and they offer you a lot of free spins that you can use to try out the games before using your real money.
Also, if you don't want to spend any money in the casino, you can always withdraw your initial deposit and be left with the bonus perks. (unless otherwise stated in the Terms and Conditions).
If you get lucky, you may even be able to withdraw your bonus winnings. It's important to remember that all promotions have a wagering requirement that you need to meet to request a cashout, so you need to read the Bonus Terms before proceeding.
What Did You Think?
Now we would like to hear from you:
What free gambling strategy will you try first?
Are you going to grab a no deposit bonus? Or try your luck on some social casinos?
Either way, let me know by leaving a comment below right away.