Trends to lookout for in Chat-bots in 2018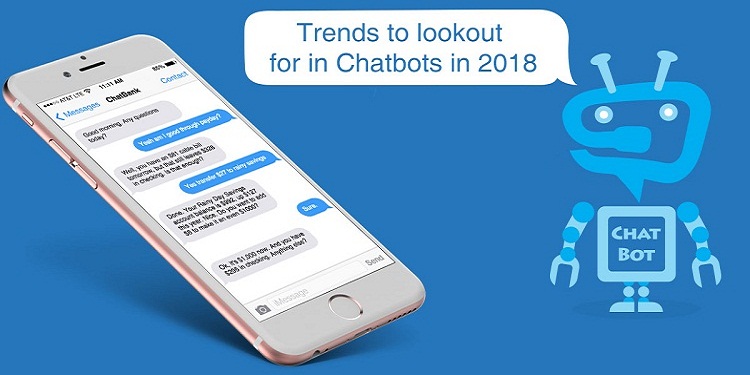 Less than half a decade back, a person talking to anyone or anything other than a human being was not normal at all. But today, we have chat-bots. We talk to them, work with them, use them in troubleshooting and everything we could do with a real person. With the introduction of artificial intelligence to the world, concept of chat-bots came up and soon became a reality. And by now, Chatbot technology has been adopted by almost the industries offering services. In production industries, chat-bots do not have much use, for now, or another way to put it could be that they don't have much use in industries with no customer interface. In service sector, mobile app development companies have given a new perspective in smart technologies, by designing chat-bots at par with what the sector always required.
In 2018, we expect the show to go on and bring a list of advancements in chat-bots space. In fact, from what the experts can anticipate, there are some big, positive, and really productive changes in the chat-bots, some of which are:
Support
Support is the first word that comes to our mind when we think about chat-bots, because initially, that is what chat-bots were made for. Instilled with artificial intelligence since the very beginning, chat-bots started with basic one word replies, and evolved into ones with capabilities in carrying out conversations through sentences. However, the AI factor in chat-bots has yet not caught up with the level required to carry out conversations that flow, and at some point, the user can differentiate.
But this year, we can expect AI-algorithms to be equipped with better and logic-based protocols that have to have NLP integration as well. Not only this will help customers to get better assistance and problem resolution, it erases the line that segregates human customer support experience from Chatbot support experience. By offering such a rational customer support experience, companies can retain and build loyal customers while significantly reducing the costs at the same time.
Voice
Everyone needs a voice, so does your Chatbot. Till now, we have seen chat-bots chatting with us through text messages and suggestions. But is that everything what the definition of 'Chat' covers?Not really. In the light of the fact that talking is the original way of chatting, and text chats came way after that, natural language processing, or simply NLP algorithms coupled with conversational APIs is going to bring a string of modifications in the Chatbot technology. For users, this mean would mean a simple interface that allows you to converse directly with your smartphone, from right inside the chat window.
Payments
Payment and remittance apps are on the rise, and mobile app developers are looking for ways to integrate chat-bots in purchase points like shops, malls, theatre etc. to make purchasing not only easy, but an amazing experience. Although some of the early adopters have not found chat-bots very useful, but according to Kik messenger, that is only because chat-bots have been missing this significant feature that gives chat-bots a reason to be bought by the users.To go on to demonstrate the potential in what he believes, Kik has recently built its own cryptocurrency called 'Kin', which is going to be used by the platform to allows users to pay for the things they buy through Kik messenger's Chatbot interface. Other than Kik, Telegram messenger, which gained immense popularity for the arsenal of unique features it was launched with, has also deployed a bot API for payments to facilitate payments in the simplest way possible.
In order to pay, receiver sends a payment request to sender in a specially formatted invoice messages with the amount and payment breakup mentioned on it. All these ideas have been welcomed by users with open arms, and it seems the demand for chat-bots is set to grow by leap and bounds.
The future of chat-bots in 2018 seems promising, and with the high demand for chat-bots due to the simple reason that chat-bots allows one to do more than one and one type of tasks. And if you look closely, isn't that what a digital solution supposed to be like? A single window for different types of tasks where you can even define your preferences. Hell yes!
Author bio: Lokesh Chandra K N works as a technical content writer at FuGenX Technologies, – a part of USM Business Systems Inc. – which is world's leading mobile app Development Company in USA. As an experienced technical writer, he is capable of providing content for various static and trending topics in the technology space.