Whenever we need to download videos or extract audio from them, typically, our first and foremost action is to search the internet for an online mp4 to mp3 converter. These online YouTube converter not only help you download a video but also can turn them into your desired audio format like Mp3, OGG, and WAV. The online tools I'm about to share in this post are capable of more than that, and they do their jobs flawlessly. So without further due, let's dig into their details!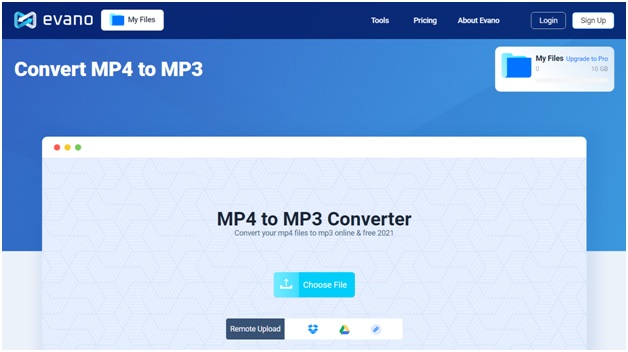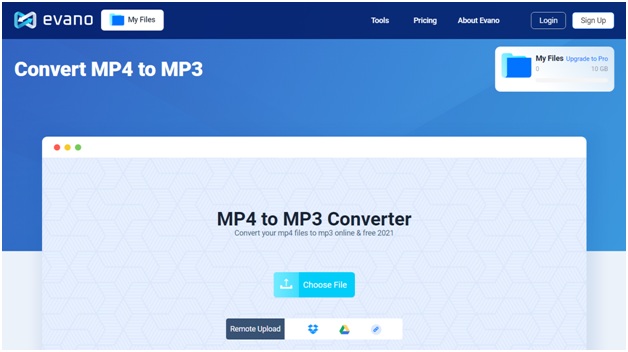 Evano is one of the finest video converters on the internet, allowing you to transform files to nearly any popular video or audio format. So, if you have any YT videos on the waiting list, give this the URL, and you'll be surprised to see how much you can do with it. The whole video converting process doesn't take long, but it also depends on the file size. So, what else does this website has to offer? Let's see:
Video Settings
Evano is like a mini video editing software enabling you to change not only its format but also its properties. You can alter the codec, select a constant bitrate for the file, resize if required, change its frame rate, and rotate it if needed. Only a professional video editor or someone who possesses a little knowledge about it will understand the significance of these options.
Audio Preferences
You can convert audio files too! It's not just an ordinary video converter. It allows you to change the codec into Mp2, Mp3, EAC3, DCA, and AC3. Not only that, you can change the frequency, select an audio channel like, or even amplify the sound. Well, voice amplification is a pretty handy option for music tracks that have imperceptible audio.
Price Plans
First of all, introducing the FREE plan that doesn't require any subscription but has a file size and download limit. The file size limit is 100Mb, and you can download 5 files in one day and 20 files in a month with the free plan. If you download videos regularly, you'll need to register for free to upgrade, which increases the file size limit to 500, and for Pro to 1000MB with unlimited conversions and downloads.
Evano is overall an excellent online YouTube converter, but the restriction on file size and limit on downloads doesn't really make it stand out. But the files people mostly convert or download from YT are under 100mbs. So, I think the free plan is pretty good for that cause. Also, as it contains some advanced video editing options, I'd highly suggest it to editors.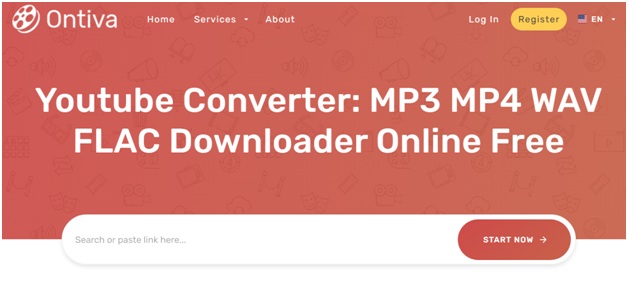 Ontiva is quite a famous YouTube video downloader with a unique feature. It has given its search field the power to search YouTube videos and display the most relevant results below it. You can save the videos in 4 formats Mp3, Mp4, WAV, and OGG. It isn't on the same level as Evano, but it's quite beneficial for YT video downloads because of its unique feature. Interestingly, it offers some video editing options as well, but not as advanced as the Evano.
Cut The Videos
Now, this option doesn't look like anything phenomenal, but it is very helpful. Let's say you like some part of a video, and want to download it, but you end up downloading the entire video and then try to cut your favorite scene. This particular option enables you to cut the video before downloading it, so you only get to enjoy your most liked part of it.
Download in Different forms
Another cool thing about it is, you can save the video as an audio, video, Gif, or thumbnail file. So, whatever you need from the YT clip, you can get it just by clicking on your desired form. The audio section here provides all the variants you can save the video in, like Mp3, AAC, OGG, and WEBM. You can extract audio or video from any section and compile it later to create a track that contains your favorite music or a video of your dearest moments.
Price Plans
Ontiva also has some restrictions similar to Evano, and has a limit on the number of YouTube video downloads. You can download or convert 5 videos a day, with a maximum length of 15 minutes and resolution not more than 720p.
To reduce these restrictions, you can get yourself registered for free, but you'll need to get a premium account to gain unlimited downloads. You can purchase a premium subscription for as low as $9.9 a month, and I think it can prove to be quite valuable to those who download several videos a day.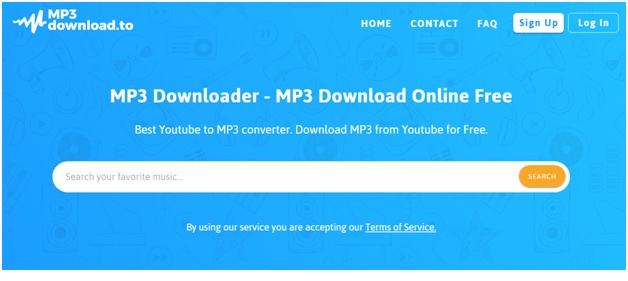 Another famous website that is only made to download YouTube videos, and give its users the best UI. This responsive and free online YT converter offers some features similar to Ontiva, and because of its simplicity, people like it a lot. One feature that is common in both is the YouTube search engine, but the results displayed on this site have a better appearance. Also, it offers a few better download options:
Better Resolutions
Once you search for the video you wish to download or provide a URL to it, you'll be able to download videos in HD resolution. Also, if you sign-up for free, you'll be able to save videos of up to 60 minutes with 2k resolution. Now that's much better, but the download limit is still there; if you don't register yourself, you cannot save more than 10 videos a day.
Mp3 Quality
Since it's the most played music file extension, we're all familiar with this format. The thing you all need to know is that it has a lossy structure, which means whenever a video is converted to this format, it loses a bit of quality. But it can be managed because this site allows you to select a bit rate for conversion, and if you want the best sound, you should always go for 320 kbps.
Price Plans
Well, it also offers a premium subscription, but I don't think you'll need it because, along with better resolutions, it allows you to download 50 files per day with a registered account. The good news is that registration is absolutely free, which is really a big deal for anyone who wants to download videos of good quality.
With this being said, I don't think you need any suggestions because every site has unique features to offer, and you can select anyone depending on your needs. Evano is usually a professionals pick, whereas the other two are for regular downloaders. So, choose wisely, and enjoy downloading!