8 Cool Apps that Will Make Office Work Easier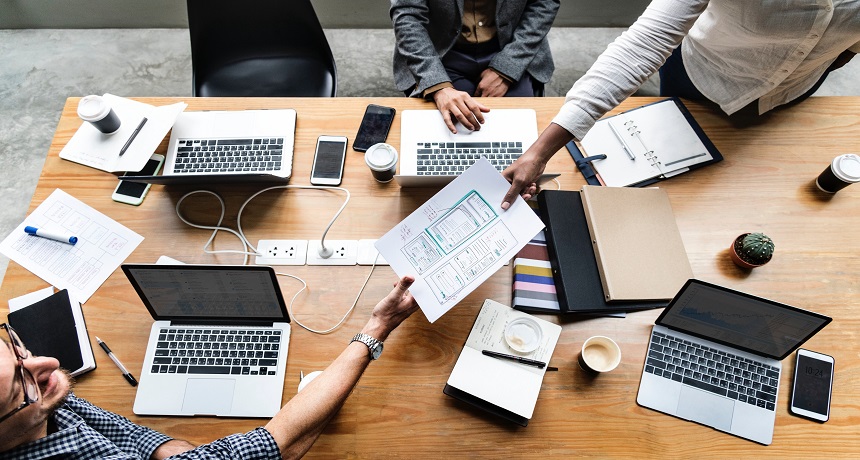 There are two kinds of apps you can use. The first type is the kind that was designed to entertain. Therefore, it distracts you from your work. You can spend a lot of time browsing your wall on Facebook or clicking on your phone for hours playing 2048. However, there are times when using your smartphone at work can help you, as it can increase your productivity.
Specialized apps for the office offer you a wide range of easy solutions for your everyday problems. They can reduce stress, help you get more organized, and keep you focused on your work. We've prepared a list of apps you can use to increase productivity and reduce headaches at work.
1. FaxBurner
The days of big scary fax machines are over. Faxburner is a faxing app that allows you to send and receive faxes to your email or iPhone instantly. It's easy and free. You just need to register and get your fax number. The app has an excellent user-friendly interface that allows you to navigate very quickly and with great efficiency. If you need to send many faxes on the go, FaxBurner is right for you.
2. Toggl
Toggl is a simple tool that can help you track your effectiveness at work. Its primary purpose is to keep track of how much time you spend on a given task. The idea behind the app is to realize which tasks are taking up too much of your time so that you can focus on the more important ones. With Toggl, you can learn how to organize your time efficiently and plan your schedule accordingly.
The basic version of Toggl is free. You can use it without any limitations. But its premium features can be useful for some, as it will send you reminders, allow you to create tasks, give you administrative dashboards and much more.
3. Linkus
If you use systems like PBX phone systems, it may be helpful to install an app like Linkus. With it, you can work anywhere with an integrated voice, messaging, conferencing, etc. It provides you with easy access to every feature you need on your portable device like a smartphone or laptop. It can distinguish private and business calls using cloud-based technology.
According to UC Today, Linkus has a simple setup process and apparent benefit of enhancing UX for mobile users.
4. ScreenMeet
ScreenMeet is an excellent tool for people working in teams. This app allows you to share your screen with other people on their own smartphones or computer screens. The only thing you need to do is download the app and send out invites.
5. Calm
Everyone needs a break from work from time to time. The office environment can be hectic and high-pressure, but you can meditate in peace with apps like Calm. It provides you with a range of meditation clips that can vary from three to twenty-five minutes so that you can fit a session into your schedule perfectly.
For free, you get a limited number of mediations, but the app offers three different subscription plans you can choose from, according to what best suits your needs.
6. Buffer
Buffer is an app that is useful for every person who has to deal with social media. It is designed to manage multiple accounts by scheduling posts on Facebook, Instagram, Twitter, Pinterest and Linkedin. It is compatible with Android, iOS and Windows so that you can use it from various devices.
Buffer offers two plans for users – free and premium. Some of the premium features contain an RSS feed to a user's profile, displaying suggested links from external sources, which adds the possibility of planning 100 posts from 8 different accounts.
7. CleanBeat
CleanBeat is a great addition to every HR department, as it helps you with the onboarding of new employees. It may help you build better company culture, receive various kinds of feedback and analyze your teaching activities. Because of real-time data and quick communication, nothing will slip past you. You get insight for early interventions based on the data you receive from employees.
8. Todoist
It's one of the most advanced apps designed to make coordinating a project more manageable and efficient. The free version allows you to create priority ratings and assign tasks to other people, etc. When using a free plan, it is possible to work with five different people on up to 80 projects simultaneously.
The premium version of Todoist gives you reminders of everything you need to do, allows you to put labels on tasks, filter whatever you want and add comments to tasks.
The Bottom Line
Using new technologies can make it easier for you to work and organize your time efficiently. Whether you work at the home office, the bureau in a big firm, or even if you're the big boss, with these apps, you're able to establish better communication and help other people develop good habits. Using new technologies may be scary for some, but remember that they are made for us to make the world a better place. With the mix of various apps, you can create an excellent work environment for your co-workers and employees. Happy employees are the most efficient employees you can have!