Nowadays, a pdf reader has become an important application for every android device. Having a pdf reader app on your device helps most in many ways. This helps to read ebooks, e-newspapers, read forms, view important documents, view-compact formats, images, etc.
For office-related work or for school and colleges these pdf reader applications are equally important. If you want to access some files, forms, and books then a Pdf reader serves you the best.
There are plenty of pdf reader applications available on the internet, which creates lots of confusion when selecting the best, worthy, useful app.
To relieve you from all this confusion we have gathered here the 10 best Android pdf reader applications for you. Now, No more confusion, only the best pdf reader applications are described below. Take a look at these and select one of the best pdf reader apps. All these apps are easily available on Google play store.
First Get to Know: What is a PDF Reader App?
A pdf reader is an application developed for Android or iOS-operated devices. It is used to view or read pdf files. A pdf file means the 'portable document format'. Pdf files may contain books, office documents, images, newspapers, magazines, research papers, and so on. It plays an important role in viewing the compact version of large files.
10 Best PDF Reader Applications For Android Devices are as Follows:

WPS Office is the pdf reader app available on the Google play store. It is said to be ideal for reading and viewing pdf files. Besides just viewing you can edit, and convert pdf files according to your need. This app also works as a document scanner.
Features of WPS Office:
It is all in one pdf reader app
One can easily access pdf, excel sheet, word document, ppt ppt
It can convert files into pdf format
Files sharing can be done
Was cloud storage also available
It is compatible with ms office
About This App:
Got 4.5 stars out of 5
It's rated for 3+
More than 10Cr downloads of this app
It includes in-app purchases
Reviews are positive
Pricing:
It is free to use only for Android devices
For PC or for Mac laptop version it has separate plans

Adobe Acrobat reader is the mostly preferred pdf reader app for reading ebooks. It provides cloud storage for saving document files. It can convert the document files into pdf format and do other regular office work. This Android app can be used professionally. It supports all the screen aspect ratios. It can convert an image into a file through a scanner.
Features of Adobe Acrobat Reader:
View, edit, convert, read pdf files
Sign up, fill out the pdf files
The dark mode is available for brightness adjustment while reading
Scanner helps to scan documents instantly
Can create a link for sharing the file
Image, text, and editing options are provided
Export pdf into word or document format directly to the office
Easy to access files from cloud storage
About This App:
It's rated for 3+
Got 4.4 stars out of 5
Includes in-app purchases
3+ rating
More than 50 Cr downloads
Reviews seem to be positive
Pricing:
It is a free app but needs a subscription to use more features
The subscription plan = $1.95/ month

It is another effective pdf reader app for Android. It is used mostly by training institutions, schools, and colleges. Foxit is easy to use and instantly changes the orientation of pdf files and documents. It has options to adjust the brightness of the screen while reading ebooks. It has so many other tools like a higher, text editor, image editor, etc. It can also change the background of the readable file for effective reading.
Features of Foxit:
It is efficient to manage documents
Scan hard copies to pdf format
Annotations available for better reading
Can create a customized set of tools
Sign and fill out the forms
Collaborate or share pdf files
Multi-language support
About this App:
3.9 out of 5 reviews
More than 50L downloads
3+ rating
It's a lightweight app for Android devices
It's completely secure
Advanced features are available
Includes in-app purchases
Pricing:
It is a free app but needs a subscription to use more advanced features

Librera helps view and read all kinds of formats. Pdf books can also be read by using this app. Along with edition, highlight, pdf converting, and adding annotations it also includes the text-to-speech feature that can be helpful for read-out-loud options.
Features of Librera:
Convert documents into pdf format files
Text-to-speech feature available
Annotations available
Editing tools are provided
Protect files by setting the password
Customization for background
All options are configurable
About this App:
4.2 users give stars
Rated for 3+
About 1Cr downloads
No in-app purchases
Privacy protected app
Pricing:
It's free to use but contains ads

It is a pdf reader app that can be used professionally. It helps to read as well as to view the pdf format files. Good for personal use as it is subscription free. The signature feature is best for all kinds of apps. Can add signs to the documents electronically.
Features of Docusign:
Upload the sign and send it
Details about signs and their uploader are available
Helps to read pdf files
It supports multiple document format
About this App:
Simple as well as streamlined management
It's legal to sign a pdf, document, or certificate through Docusign
Includes in-app purchases
4.2 stars
3+ rating
1Cr above downloads
Pricing:
The app is partly free
The subscription plan starts from $10/per month
It has so many plans according to the need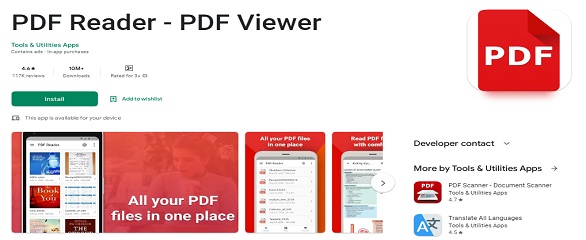 Google pdf reader works as a plugin for Google drive. It is a simple pdf reader app so one can simply read pdf files. It doesn't contain any extraordinary features, it can only be used for viewing pdf, copying it, printing it, searching for it, that's enough.
Features of Google PDF Reader:
Simple and easy to use
View, edit, and read pdf files
Compatible with Google office services
About this App:
No separate download comes with Google Drive
Trusted for privacy
Not available on the Google play store but comes along with all google powered apps
No service charge
Pricing:
Free to use, no subscription plans
Mixplorer silver is a type of file manager app. Along with Pdf reading, it also works as a file manager that helps to access, browse, and create files on the device. It has a free plugin for pdf readers. It supports all types of file formats. It works in multiple ways including file manager to read a PDF file.
Features of Mixplorer Silver:
Manage files on a device
Browse the files
Supports all plugins
Best eBook reader
All in one solution for Android devices
About this App:
4.7 stars
10T downloads on the Google play store
3+ ratings
In-app purchases involved
Pricing:
For using it, you have to buy it for $5.15

Xodo is a pdf reader application available on the Google play store. It is known for its quick as well as smooth working. It can convert all kinds of files to various types of file formats. It serves as the signature uploader to the pdf files whenever needed. It also works as the file manager, file converter, browser, etc. Xodo supports cloud storage along with so many other useful options. Making notes, bookmarking, and files managing can be done with xodo.
Features of Xodo:
All in one pdf solution for Android devices
Convert PDF files to Word (PRO), Excel (PRO), PowerPoint (PRO), JPG, etc
Convert Word to PDF, PowerPoint to PDF, Excel to PDF
Convert Word to JPG, PowerPoint to JPG, Excel to JPG
Pdf editing tools are available
Pdf annotations, Drawing tools are available
Pdf scanner
Protected pdf files
About this App:
Rating is given 3+
Downloads are 10Cr
4.5 stars given
In-app purchases involved
Easy-to-use application
Pricing:
Xodo pro version subscription is available for $1.32 – $123.73 depending upon the plan

The fast scanner is the document scanner app. It converts all types of documents into pdf and JPG formats. It scans the hard copy and converts it into a soft copy in the form of a pdf file along with a clear and neat image. It works as a pdf scanner and converter. It does nothing like viewing the pdf and as a reader. Using the device camera this app captures the clear image of documents and then processes them.
Features of Fast Scanner:
Instant documents scanner
Export to pdf file
Email scanned documents
Cloud print available
Multiple device support
Committed to providing the latest updated versions
About this App:
It has a 3+ rating
Includes in-app purchases
It contains ads
4.4 stars reviews
1Cr+ downloads
Pricing:
It's free but requires a subscription plan for more advanced features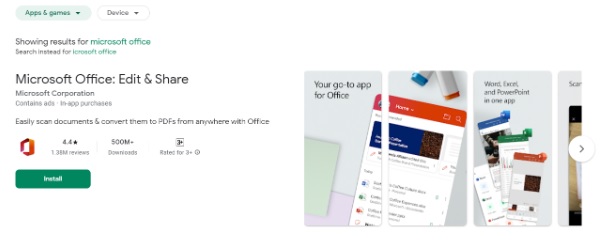 Microsoft Word is one of the best applications for office work. It is a compact version of desktop Microsoft Office software. It serves as the pdf maker, the viewer as well as the editor. Along with pdf making you can create some other works related to words. It includes so many other templates that assist you in doing other work. It has the feature of eBook reading as well. Those who are in search of a PDF reader cum word processor should go for this.
Features of Microsoft Word:
Edit, read, and process all types of documents
Read PDF, ebooks
Create blog posts, resumes, invitation cards, letters, etc
Useful for professional office works
Share documents through other apps
Multiple device support
Connect your pc to mobile directly through this app
About this App:
100Cr above downloads
Excellent reviews of 4.2 by millions of users
3+ ratings
Include in-app purchases
The basic version is free
Pricing:
Its mobile version is free
Its Desktop version comes with a subscription plan
Conclusion:
Pdf reader apps are necessary for regular work. If you are a professional office worker or school, or college student, you must know all the pdf reader apps to do your work conveniently. Each app has some extraordinary features along with just reading pdf, so might be helpful for you if you are in search of all in one app. Go through all the apps and select your best.