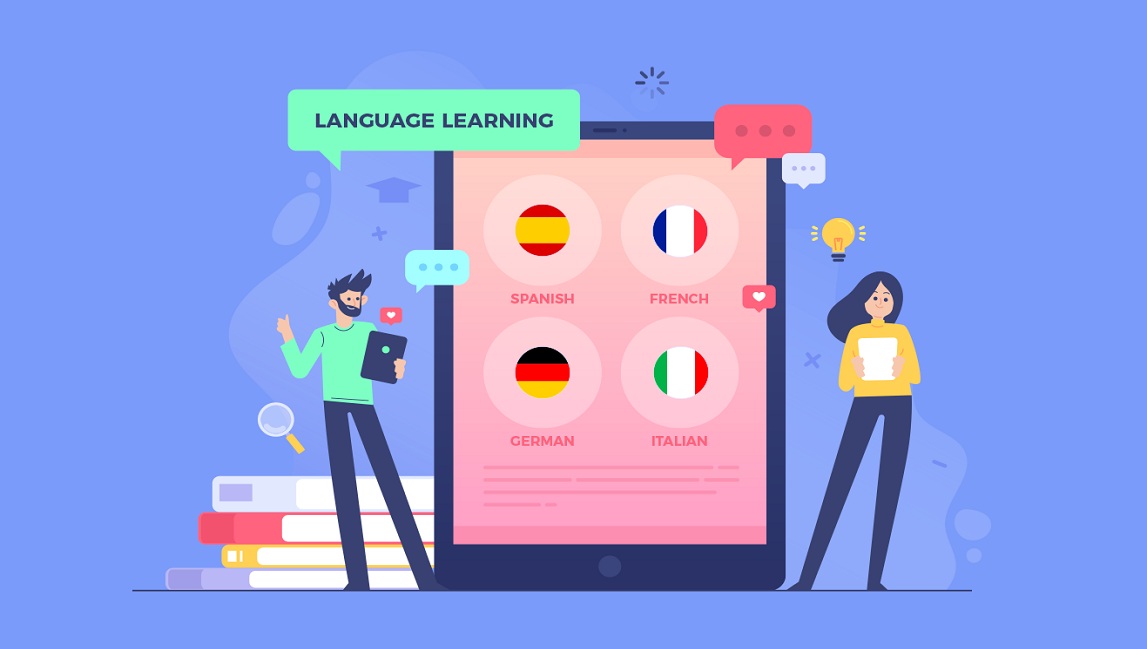 Every day, people plumb the depths of foreign languages, memorizing new words and mastering accents. Language learning is an exciting process. Sometimes, however, it's so tiresome that people simply give up on the idea of becoming polyglots.
Within the past few years, the world has seen several successful attempts to fix this problem with the help of mobile app development. Some of the most popular language learning apps are Duolingo, Memrise, Busuu, and Babbel.
We've carefully analyzed these and other famous apps in the language learning industry to define the best practices and trends to build effective and engaging online training software. Let's explore how you can…
Create an App for Effective Language Learning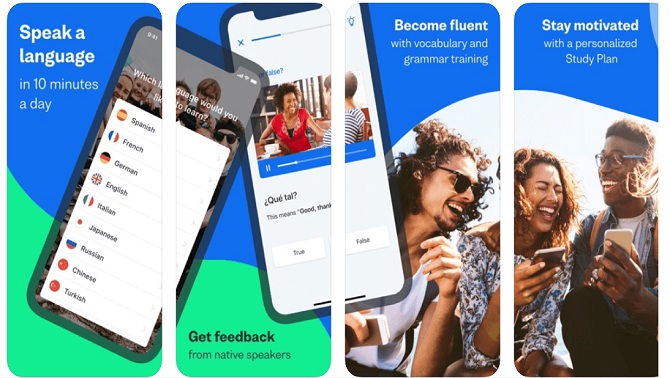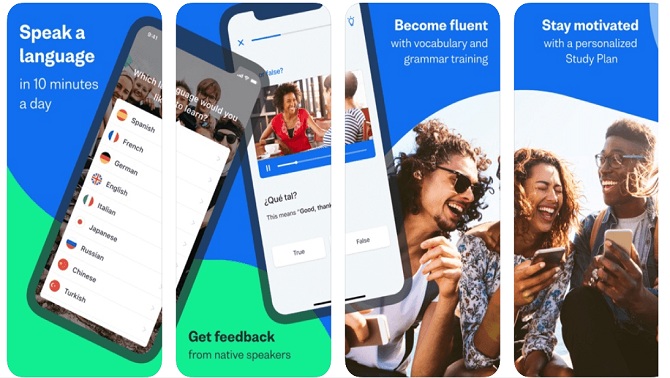 It's generally recognized that there are four skills needed to master a language: reading, writing, listening, and speaking.
There are numerous activities that can help you successfully acquire these skills:
Taking language courses
Reading books and using dictionaries
Listening to audiobooks and watching foreign films
Attending speaking clubs
Chatting with foreigners
Language learning apps are a great alternative to these traditional activities, as one app can help a user improve all four language skills. But if you want to build a powerful language learning app, you need to consider implementing multiple features we'll talk about in this post.
The main purpose of learning a foreign language is to understand others and to be understood. To do this, you need to learn words, understand how to use them in sentences, and consolidate your knowledge through practice.
Vocabulary and Grammar
Language learning apps may be excellent tools for memorizing new words, phrases, and grammar rules. How can you help users learn new vocabulary and study grammar using a mobile app?
Make Learning Easy and Engaging for Beginners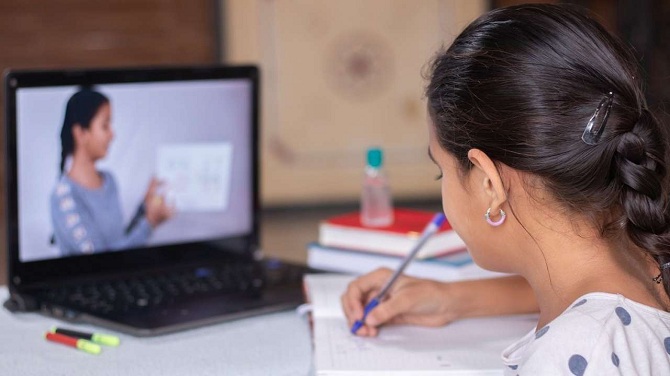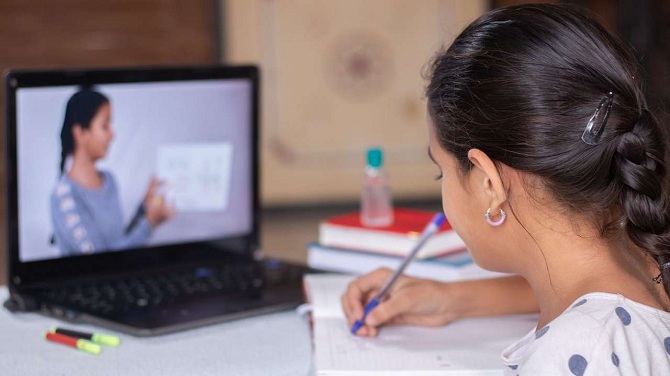 People who begin experimenting with a foreign language shouldn't be overloaded right away. Start them off with simple exercises that focus on reading and writing skills. This is enough for beginners, for whom speaking and listening tasks aren't so easy.
For example, in Duolingo, people can find many useful exercises to learn a small number of words in a captivating way. Language learners can widen their vocabulary by doing only a few exercises per day. These exercises include selecting translations of words to fill in the blanks, dragging words into the correct order, and taking short quizzes. Don't forget to include exercises that check spelling. Babbel stresses exercises where users have to complete dialogues.
Challenge Advanced Learners
Some mobile learning apps take a more serious approach to vocabulary training, giving workloads that only advanced learners can cope with. These apps usually offer complex (but intriguing) quizzes with an emphasis on reading and memorizing words and phrases.
For instance, Vocabulary.com lets users look at a word's description, antonyms, and synonyms to choose the right answer from four possibilities. At the same time, the absence of pictures makes these tasks more complicated for students.
Along with vocabulary challenges, make sure you load your language learners with grammar.
How can you satisfy all users by offering personalized approaches to learning vocabulary and grammar?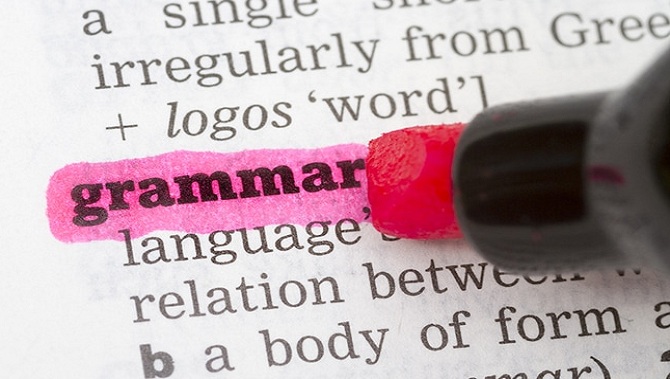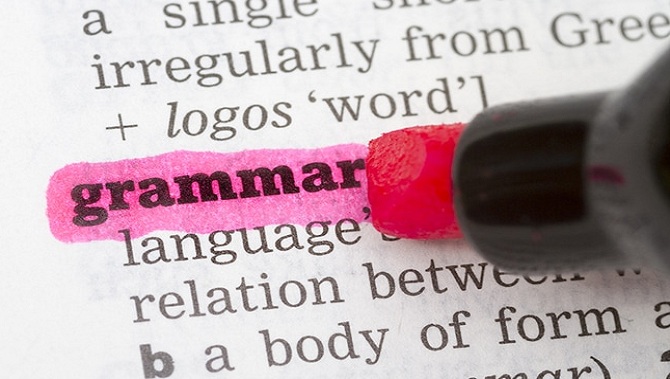 If you manage to incorporate tailored approaches for users at different levels, you'll be able to attract and retain a wide range of language learners. That's what Busuu did by providing its Vocabulary Trainer and Grammar Review tools. They're both powered by machine learning algorithms that adapt to a user's learning behavior in real time.
Vocabulary Trainer. The algorithm behind this tool assesses each user's vocabulary strengths and weaknesses and provides a personalized set of learning materials. In addition, the algorithm applies a decay metric and intelligent spaced repetition to ensure that learners repeat vocabulary for long-term memorization. The more a learner uses Vocabulary Trainer, the more personalized their experience becomes.
Grammar Review. This tool investigates what a user has to practice to take their skills to the next level. Grammar Review is currently available for iOS users who study English, French, German, Italian, and Spanish. By using this tool, a user can:
Access all the rules they've learned and check their progress by passing related exercises
Review previously covered rules by tapping on a grammar topic
Check which grammar topics they need to focus on
Alongside theoretical grammar and vocabulary knowledge, users should also practice listening skills. Some language learners think they're making excellent progress as they can grasp written content. But when it comes to listening to native speakers, they don't understand much. How can your app help users master listening skills?
Listening Comprehension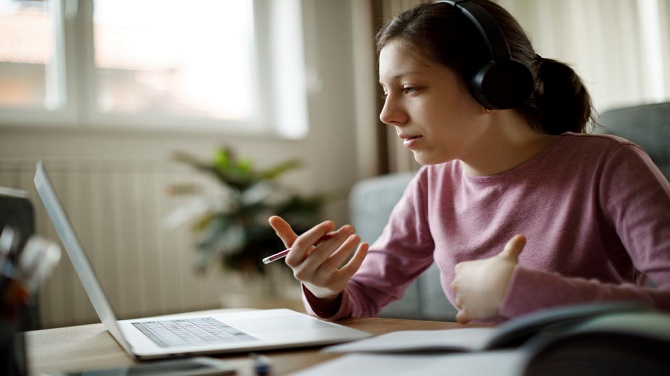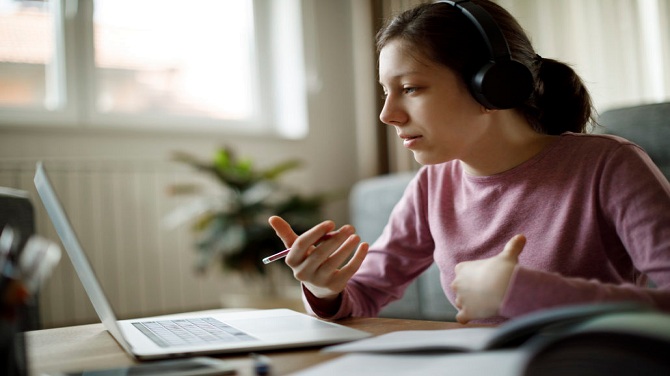 Duolingo benefits users by providing podcasts to give learners an engaging way to facilitate their listening comprehension.
The Memrise app has a huge number of short videos and audio tracks that allow users to listen to native speakers and do some exercises afterward. For instance, learners can take short quizzes and choose the word or phrase from a clip.
In addition to understanding others, a language learner should be understood when communicating.
Pronunciation Checks
Imagine that Tom and Sarah, who live in the US, have been learning Hindi for a long time. They already know Hindi grammar and vocabulary well. In addition, they can understand spoken Hindi without any difficulties. In half a year they would like to visit India, enjoy the traditions of the country, and talk to locals.
However, Tom and Sarah face one problem: in order to speak in Hindi with native speakers, they should have good pronunciation. But they don't know any native Hindi speakers who can help them improve their pronunciation.
Apps like Babbel provide the following features to solve this issue:
Speech recognition technology to check users' pronunciation
Audio clips and dialogues recorded with native speakers
The ability to listen to speech samples and repeat after the speaker
Exercises with words corresponding to a particular consonant or vowel in the studied language
Tongue twisters to practice pronunciation
TerraTalk positions itself as an app that can correct both pronunciation and grammar. A built-in AI component not only examines how users pronounce words but how fluently and correctly they build sentences.
To turn theoretical knowledge into practical knowledge, people who study languages need to regularly practice.
Language Practice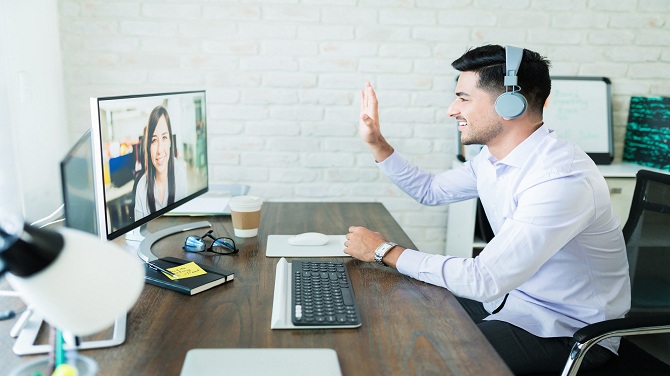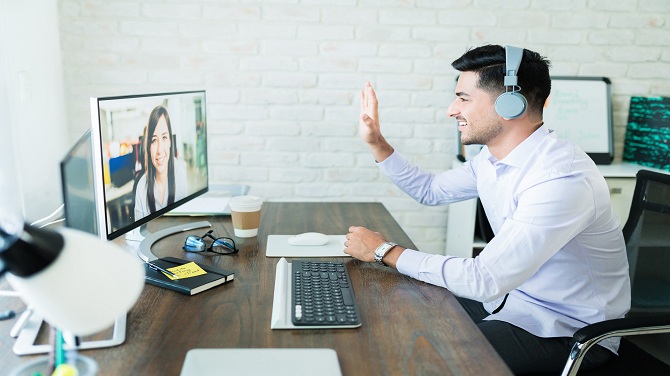 Now let's find out what app features can help users practice and maintain their language skills.
Networking Functionality
Some apps allow users to create in-app communities where language learners can chat and exchange knowledge. Tandem and HelloTalk are bright examples of electronic platforms that unite language learners from all over the world. With the help of such ed-tech solutions, users can find people with similar interests and see what they want to discuss and what languages they speak or study.
Tandem also allows language learners to communicate with each other. For instance, beginners can connect with advanced learners to seek advice on practicing their language skills.
Duolingo provides a feature called Duolingo Events that helps app users meet native speakers in the area to practice the language they're learning in real life.
However, many people may feel awkward or embarrassed speaking a foreign language with another person because of their fear of wrong word choices or grammar mistakes. Here's where chatbots may help.
Chatbot Functionality
According to Investopedia, a chatbot is an AI feature that can be embedded and used through any major messaging applications. Although chatbots are not truly AI, together with IoT development solutions, they make living, communicating and learning languages easier. With chatbots, nobody should be afraid of making a mistake. The only intrusive thing a bot can do is politely point out mistakes so users can avoid them in the future.
What's more, users don't need to wait for the chance to chat with a bot. These virtual interlocutors are online all the time, so users can talk early in the morning or late at night.
Duolingo was the first among EDU startups to use this approach in its mobile application. In 2016, the company introduced a chatbot feature enabling users to have dialogues with virtual language tutors in French, Spanish, and German. Now Duolingo chatbots are capable of discussing topics in more than 23 different languages.
But the ongoing development of such technologies as machine learning shows that e-learning developers should consider implementing chatbots in language learning apps to stand out from the competition.
As users keep advancing throughout a course, it gets easy to forget the material they learned earlier. How can you help them retain their knowledge?
Training and Checking Progress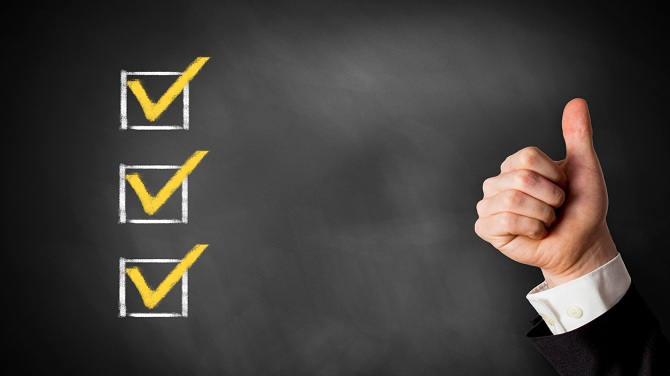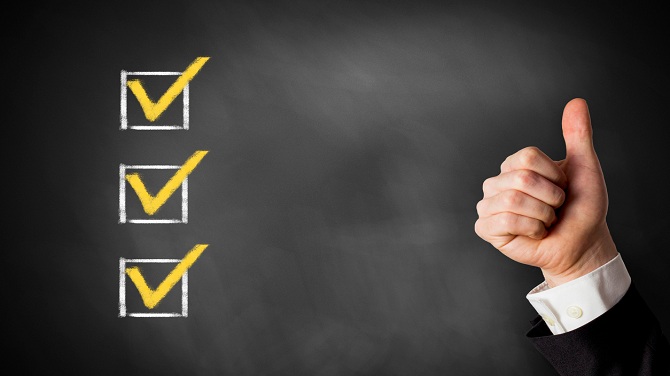 Duolingo provides users with three features to help them repeat the material they've learned.
Notifications. Duolingo sends daily notifications reminding users that they should train their skills. This approach allows learners not to deviate from their course and helps them gain new knowledge day by day. Moreover, such an approach helps the app retain users.
Spaced Repetition. Spaced repetition is an effective learning approach that's commonly implemented with flashcards. Duolingo has Crown Levels based on a spaced repetition algorithm. Once users reach Level 5 of a skill, the skill icon becomes gold, signaling that they've mastered the skill. But this skill level can be shattered, indicating that the user needs to review the content. Successfully performing an exercise on a shattered skill returns it to its golden status.
Periodic Assessments. At the end of all sections in the course, Duolingo offers users a checkpoint quiz. This freeform writing test asks users to answer questions in up to 200 characters, challenging users and enabling the Duolingo team to check the user's progress.
Learning a language is a long process, and it's often difficult to keep yourself motivated on the road to fluency. That's why lots of people give up before they've achieved their goals. How can you retain users in such challenging circumstances?
How Can Your App Motivate language learners?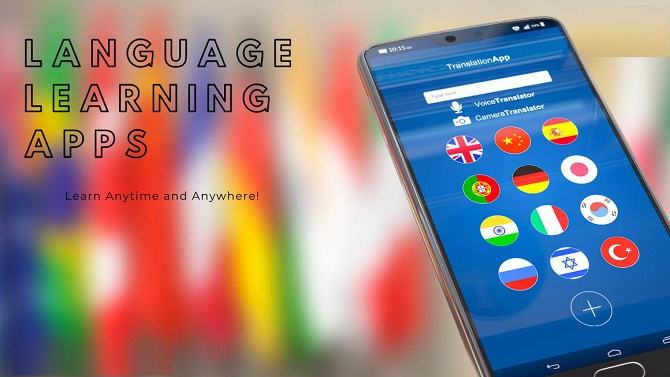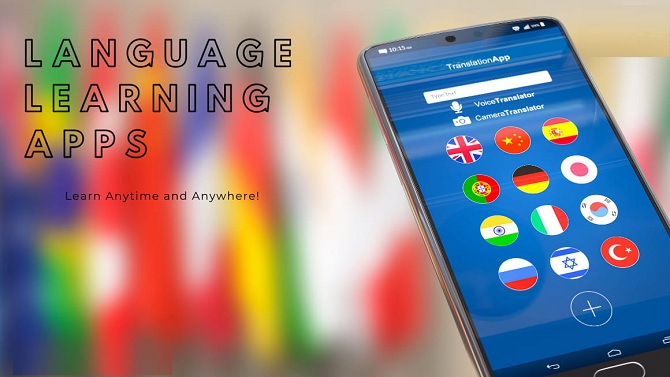 Successful language learning apps use motivational and entertainment instructional techniques to keep users engaged. Let's examine them.
Gamification. When a Duolingo user completes a lesson or a practice session, they earn XP (experience points) that level them up in the respective language. XP is the key Duolingo approach to motivating users to continue learning and practicing. The app also allows users to earn in-game currency by reaching various XP goals. Users can spend this currency in the Duolingo virtual store.
Competition. Memrise and Duolingo please learners who enjoy competitions: both apps let users access a leaderboard showing points of competitors, which encourages them to study more and keep using the app.
Encouragement. Vocabulary.com is a useful resource for those who wish to learn new words in an unusual way. If learners make mistakes on short quizzes, a personal tutor may chide them lightly but will also give them the chance to correct their mistakes.
If you want to create an app with a lot of useful features, you should also think about how to guide your users through the app and give them useful information throughout the whole language course.
How to Welcome and Support Your App Users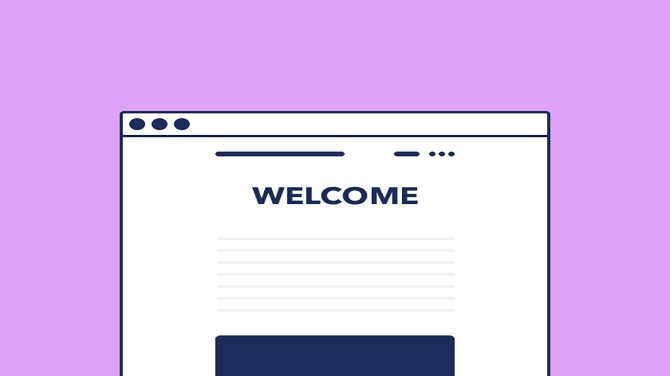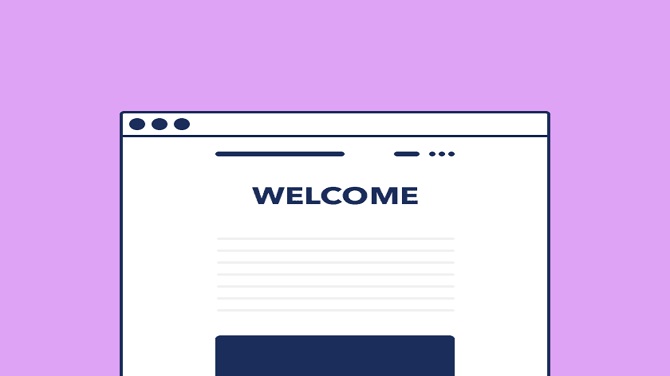 According to TechJury, 21 percent of mobile apps worldwide are accessed only once during the first 6 months after downloading. So as not to join their ranks, consider the following features.
Onboarding. To be user-friendly, your app should include comprehensive and easy-to-grasp directions on how to use it. Busuu allows users to take a tour through the app and get tips if something is unclear. Users can find out what a training course includes, what language level they're at, and how they can review vocabulary and check progress. In Duolingo, a cute green owl provides users with all necessary information throughout the whole language course.
A personal Tutor. Sometimes, language learners aren't only confused by how an app functions but also by language rules. In this situation, a personal tutor can help like no one else. Tandem provides certified professional tutors for one-on-one lessons.
But even the most useful app isn't worth anything for your business if it doesn't generate some revenue. So how can you make money from your language learning app?
How to Get Revenue from a Language Learning App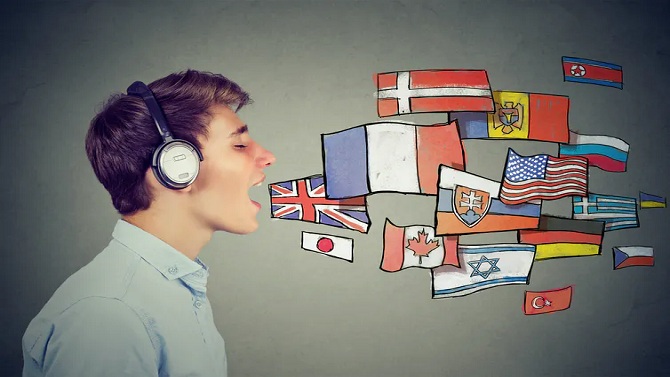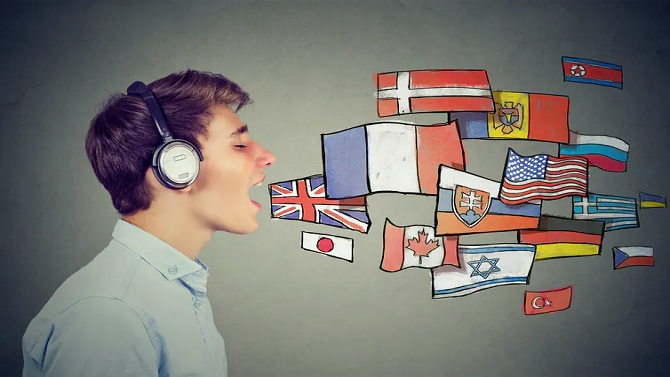 You can go with a freemium, subscription, or mixed monetization model.
Freemium. On Busuu and Duolingo, users have free access to the digital educational platform. But they can pay for premium features like interactive distance learning courses and private video tutoring with certified teachers.
Subscription Tiers. Users can install the Babbel app and take the first lesson with no costs involved. But to use the app fully, a user needs a subscription. By paying for a subscription, Babbel users can enjoy a completely ad-free app.
Mixed business Model. You also can mix and match monetization strategies. For instance, TerraTalk provides users with a 30-day trial of the Standard Plan. This trial starts automatically from the first day of using the TerraTalk app. If a user subscribes within 30 days, they can keep using the unlimited Standard Plan after the trial period ends. If they don't, the user's account automatically turns into a free account with only free features available.
Your app might target individuals only. In this case, you can add more languages for a broader reach. HelloTalk supports 100 languages, while Tandem supports more than 150 languages.
In addition to individuals, your app can target organizations by offering teaching services and can target educational institutions by providing students with exercises for education. You can provide such services for schools and businesses via paid packages.
Busuu, for example, provides businesses with three types of plans: essential, professional, and global. Additionally, students at Texas Tech University, John Abbott College, and IE Business School are learning languages with Busuu.
A Few Tips on Creating a Prosperous Language Learning App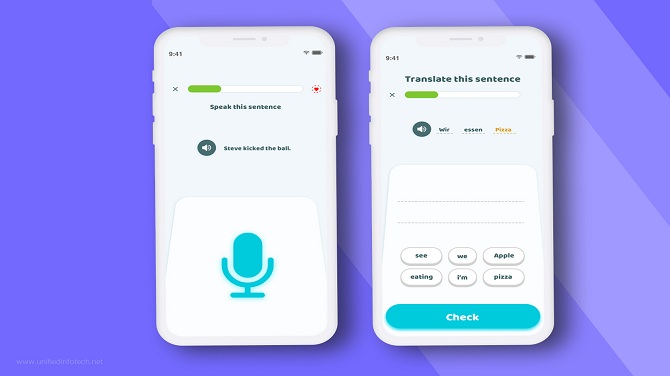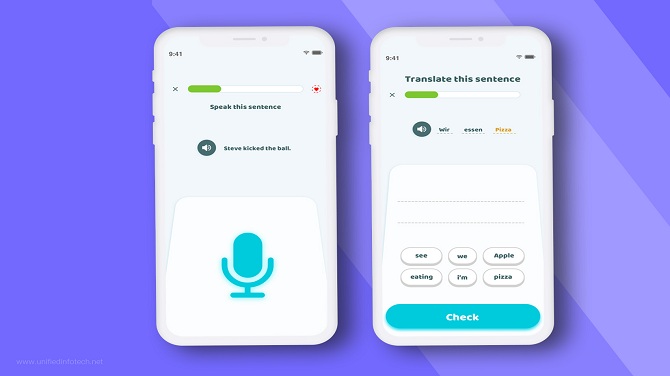 To help you craft your e-learning solution, we've compiled a list of tips on how to build an engaging language learning app.
Make Learning Less Time-Consuming. Many people quit learning a language as they aren't able to devote enough time to it. Your goal should be to provide users with an effective online learning solution that isn't time-consuming. To help users effectively memorize vocabulary, the number of words should be limited, as there's no need to overload busy learners. By using an app for 10 to 15 minutes and learning only 5 to 10 words a day, language learners can get relevant knowledge quickly and with little effort.
Make Your App Easy to Use on the go. Our lives are becoming ever faster. Enable users to take advantage of your app on the fly. For instance, the Google Translate app allows users to translate information captured by a phone camera in real time. This works great for menus, street signs, and other visual information.
Make Your App Accessible. Sync the desktop and mobile versions of your app, as users might use multiple devices. For example, Duolingo iOS app is compatible with iPhone, iPad, and iPod touch. Busuu, Memrise, and many other similar applications also provide an offline mode.
Make Your Product Personalized. Let learners create customized lists of words they'd like to memorize, repeat, or focus on. For example, say a tutor has given a task to memorize certain words. To help the user, enable them to add these words to a list and do various in-app exercises with these words until they've learned them. Machine learning algorithms can ensure state-of-the-art personalization.
The e-learning services we've explored in this post are mainly tailored to self-learning. There are also online schools with live instructors including italki and Language Trainers Online where people can learn languages through private lessons with tutors in virtual classrooms and online course management systems like Moodle. But these types of language learning service is the subject of another article.