Top 10 Educational Apps to Improve Your Knowledge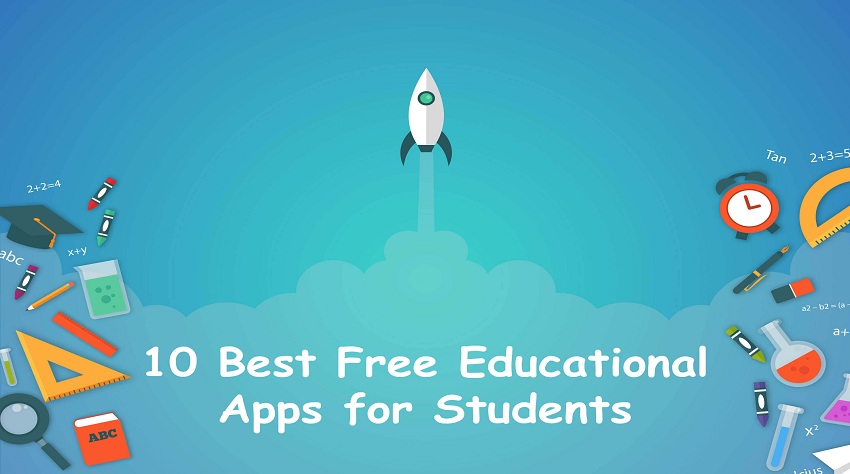 Back in days, people had to be born with a silver spoon in their mouth to get educated, while others had either to make a big effort or to live with their illiteracy. Modern people are provided with numerous opportunities, and they should just have a desire to use them. Thus, you can gain knowledge everywhere while standing in a line or waiting for your friend. You don't have to spend hours in libraries or borrow books because the Internet has already become the main source of information. It is not intended just for chatting and scrolling down the news feed on Instagram. I can do my assignments online via the phone, pay the bill, place an order, and devote time to self-development. Educational apps can become great helpers in this matter.
1. Khan Academy
It doesn't matter whether you are interested in math, literature, economics, chemistry, or creativity because this app will satisfy all your needs. Here you will find more than 40 thousand interactive tasks and tests for checking the learned information. The user will earn scores and bonuses for correct answers. Your progress in learning is automatically synchronized with an account on the site, and you can track your success with any device as soon as you sign in. The app is available for iOS and Android.
2. Tynker
This app has been created for programmers who just take their first steps in this area. Even children will appreciate the user-friendly interface. Some intuitively understandable methods allow you to master the coding without any difficulties. For instance, experiments with visual blocks can help you learn such non-simple programming languages as Python and JavaScript. The service consists of about 50 training modules, including images, games, courses, and templates that can be transformed to your requirements. You will also get a chance to write code for Minecraft and engage in programming robots.
3. Brilliant
This app will help you learn complex mathematics and scientific concepts through visual tools. Instead of long abstract descriptions, you will run into logic games. It will help you enjoy statistics, geometry, machine learning, and data analysis. The programs were developed by experts from MIT, Caltech, Duke, Microsoft, and Google. You can try your hand at more than 60 courses. The main part of the content is available free of charge; the extended functionality requires a paid subscription.
4. Ablo
If you learn a foreign language and dream of practicing speaking, you will like the app. It allows you to communicate with different countries' representatives, even if your vocabulary leaves much to be desired. The service will automatically translate all unknown phrases. The function of video calls with a built-in translator is also available in real-time mode. The main features of Ablo are available in a free version. The number of chats and the duration of the conversations is not limited.
5. Skillz
This app will help you improve logic, memory, and color vision. The tasks are not extremely complicated, but you should be attentive and careful to meet the challenge. In the application, you will search for objects in pictures, find differences between two images, and solve puzzles within a limited time frame. It is suitable even for a friendly competition since you can turn on the multiplayer mode. The game is adapted for both iOS and Android.
6. Google Tangi
This app reminds TikTok, but unlike the latter one, you can find only educational videos here. An experimental application has been developed in the workshop of the Google Area 120 company. Most clips will take about 60 seconds. The content is divided into five categories: art, cooking, DIY, fashion and beauty, and style and life. It is a boon to DIY and micro-education admirers.
7. Brainscape
If you are a student who wants to increase your learning speed, then you will not do without this app. It will provide you with flashcards and a chance to learn the required information more effectively. You will get another task when you are ready. You can design, share, and look for the required flashcards free of charge. And if you want to get a premium subscription to use endless content, enjoy additional useful features and get rid of ads, you will have to pay about $10 monthly or choose another payment plan.
8. Lumosity Brain Trainer
Many people cannot focus on the task for too long since they are constantly distracted by different things, whether it is about a phone or an ad. This app helps improve your flexibility and efficiency, deal with focus issues, and master a multitasking mode. The app developers have relied on neurologic functions of the brain that allow you to train it like any other muscle. The app will track your progress and remind you not to skip training if you forget.
9. TED Talks
TED Talks have already become a source of inspiration for many people since they are represented by opinion leaders in their areas. Watching or listening to their talks is a great way to expand your horizons and gain knowledge beyond the standard curriculum. You will absorb the info much faster and get pleasure from such a pastime.
10. Skyview
If you cannot pull yourself away from looking at the starry sky, then you will like the app. It will help you expand your astronomy knowledge, find out more info about constellations and galaxies, and examine the sky.