Web Development Companies, when you directly start with a web search, it can be overwhelming to find a list of web development companies in the USA. This is especially true when you trying to choose the right company that can fulfill your business's needs. To ensure the successful delivery of your projects, it is important to choose a web development company that understands and fulfills your business needs. We have done intensive research to formulate this list of the most preferred web development companies in 2023 that are known to meet the requirements of businesses of all sizes and industries.
We hope that this list along with a detailed guide on the most frequently questions about the web development process will help you make an informed decision. Some of the key factors that we took into account when preparing our final list include technical expertise, technologies used, experience, and their approach with project management, as well as other elements like communication, user satisfaction, and transparency.
How Can a Business Benefit From Having a Website?
Better online presence: A well-designed website can attract new audiences to your business and retain existing customers for a longer period. As the website remains available round-the-clock, it acts as a touchpoint for your customers even when your office is closed. Above all, as the website is not limited to reach people within a certain geographic location, internet users around the world can learn about your business and connect with your brand.
Authoritative information: When you maintain your business website, it gives credibility to the information that you share and enables you to answer your customers' queries directly. It is also found that users trust a business more if they have a website as compared to businesses without one.
Measure your success: Having a website yourself also means that you can track how many visitors or prospects are interested in the products or services that you offer. Furthermore, you can also learn about the geographic location and demographics of your audience. This can help you to devise a strategy to target a specific audience and determine the conversion rate to know whether you succeeded or not.
What is the Difference Between a Web developer and a Web Designer?
First, web design and web development are simply two different facets of the website building process. Each of these processes requires a professional with a unique set of skills and expertise. Hence, a web designer refers to the person who is focused on creating the aesthetics and usability of a website. On the other hand, a web developer focuses on bringing the website prototype to life and make it a fully-functioning website. Generally, a single web development company employs both web designers and web developers.
What are the Benefits of Hiring a Web Development Company?
The services that a website development company offers can help you save time and money. The web developers are skilled in various web technologies including HTML, CSS, JavaScript, PHP, and more. Additionally, it is cost-effective to outsource your web development project rather than hiring developers for an in-house team as it eliminates the need to set up infrastructure and staffing expenses. With the constantly evolving trends and technologies, it can help be hard to keep up with the market when you have an in-house development team. The best web development service providers ensure that your website is using the latest technologies and offers an intuitive experience to your visitors.
List of Top Web Development Companies in 2023
Having your online presence by developing a website helps you to reach the right audience at the right time. Due to the availability of multiple web development firms in the market, you may find it challenging to choose the right web developers. The best web development companies list will help you to choose the right company for your next project.
Last Updated: 31. Jan. 2023
| | | | | |
| --- | --- | --- | --- | --- |
| Web Development Companies | Founded Year | Located in | Rate / hr | Contact Details |
| 10Clouds | 2009 | Warsaw, Poland | $50 – $99 / hr | [email protected] / +48 533 899 400 |
| Cheesecake Labs | 2013 | San Francisco, CA | $50 – $99 / hr | [email protected] / +1 415 200-0090 |
| Ready4S | 2011 | Cracow, Poland | $50 – $99 / hr | [email protected] / +44 238 097 0485 |
| Iflexion | 1999 | Denver, USA | $25 – $49/hr | [email protected] / +1 720 207 0369 |
| Konstant Infosolutions | 2003 | California, USA | < $25/hr | [email protected] / +1-310-933-5465 |
| Netmaxims | 2002 | Canada, USA | < $25/hr | [email protected] / +1-323-319-6134 |
| SAG IPL | 2010 | Jaipur, India | < $25/hr | [email protected] / 0141-4072000 |
| Blue Fountain Media | 2003 | New York, USA | $150 – $199/hr | [email protected] / (212) 260.1978 |
| Dom & Tom | 2009 | New York, USA | $150 – $199/hr | [email protected] / (646) 741-5049 |
| Mobilunity | 2010 | Ukraine, Europe | < $25/hr | [email protected] / +38-093-592-5107 |
| Soft Suave Technologies | 2012 | Maryland, USA | < $25/hr | [email protected] / +1-410-807-8350 |
| MentorMate | 2001 | Minneapolis, USA | $50 – $99 / hr | [email protected] / +1.612.823.4000 |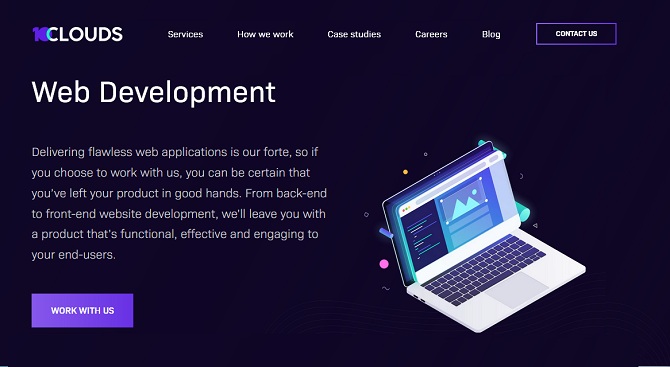 It is a web development company that can help you during the entire development process by creating stunning product designs and flawless deployment. The company employs more than 100 experienced and talented web developers and designers who excel at building web and mobile applications. From design to development of inspiring websites for your business, this agency has all the required skills under one roof.
Be it writing code to build responsive websites or providing front-end and back-end development support, 10Clouds will make you feel that your project is in good hands. If you are looking to build a functional and aesthetically-pleasing website, start your next project with this web development agency. Some of the web technologies used by this company include Python, JavaScript, Django, Node, Vue, Angular, React JS, and more. Whether it is building educational software, e-health, or Saas products, their team of developers can provide you with custom solutions that meet your business requirements.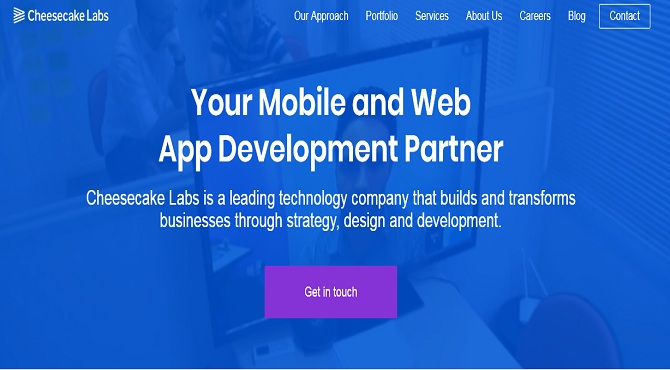 This web development company takes a holistic approach to build websites and transform your business. Your projects will go through the process of strategy, design, development, and deployment, which then helps to solve your customers' problems. The team of skilled web developers makes use of smooth integration between design and technology to solve complex problems by building simple yet effective solutions. Moreover, the developers working with Cheesecake Labs are capable of communicative and motivated to turn your dream projects into reality. The best part is they can develop web applications that cater to your business's and customers' needs.
The methodology of work at Cheesecake Labs begins with client partnership, allowing them to understand your specific requirements. By using the perfect combination of the latest technologies, frameworks, and passionate individuals, this web development agency can create digital solutions that will have a positive impact on your customers. Through strategic planning and flawless execution, it can help you build your dream project and reach business goals.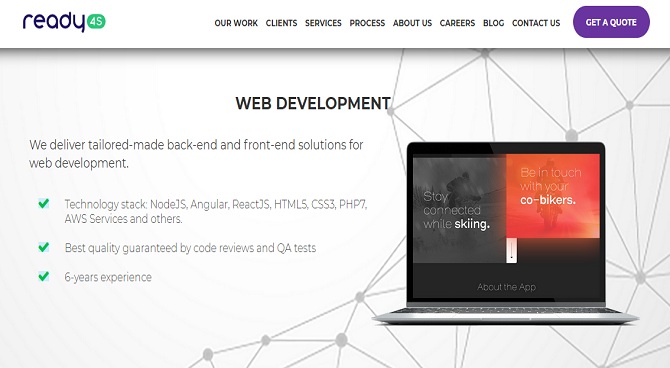 It is a custom web development company that can help you with front-end and back-end solutions for web development. The company has been awarded multiple awards, including the top 1000 companies 2019, the best FinTech app development company, and top website designs for an e-commerce portal. Many clients have shared their experience of working with this agency, saying they deliver projects within the promised deadline. It has experienced developers who are skilled in several technologies, including HTML5, CSS3, NodeJS, Angular, ReactJS, PHP7, Amazon Web Services (AWS), and more. By doing code reviews and QA testings for multiple times, the team guarantees high-quality web applications.
The web development process at Ready4S goes through several stages to ensure that products are delivered quickly and with the best quality. The company takes an Agile approach throughout the development process by regularly working on multiple iterations and testing products to ensure the quality is maintained. It has worked on more than 150 projects for several start-ups and enterprises.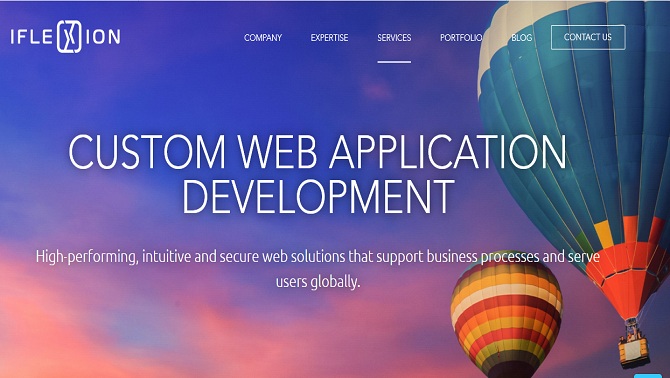 If you are looking to build an intuitive, high-performing, and secure web solution to serve your customers better, Iflexion is one of the best web development companies that you can rely on. The team of highly competent developers can help you develop custom web applications that not only enhance your market presence but also improve the efficiency of the business processes. With the experience of working on 1,500+ successful projects, this full-stack provider has used cutting-edge technologies to collaborate with market leaders and emerging businesses. By choosing them for your next web project, you are sure to provide an immersive experience for your customers on all devices, including desktop, mobile, and tablet.
Iflexion believes in building cross-platform web solutions that deliver efficient, convenient, and visually-appealing experience to the end-users. They also work on redesigning outdated website interfaces to align them with the ever-changing needs of consumers and current technologies. This web application development company can help you with the design, development, and optimization of your next project.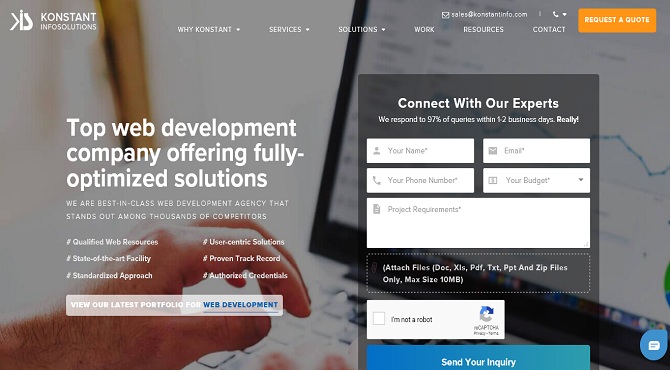 It is one of the top web development companies that stands out among its competitors by providing solutions centered on end-users and with a proven track record. This development agency offers fully-optimized solutions by taking the industry-standard approach and employing qualified, skilled web developers. If you want to build fully customizable, high-quality websites, Konstant is the leading web development agency that you want to work with. It offers several web services, including custom web and CRM development, cloud solutions, third-party app integration, enterprise web development, and also custom business application.
During 14+ years of existence, the team at Konstant Infosolutions has worked successfully on over 3,000 projects across multiple industries and business verticals, including education, healthcare, finance, eCommerce, media, travel, entertainment, and more. By using modern, reliable technologies such as Joomla, WordPress, Drupal, PHP, and ASP.NET and ensuring quick product-to-market delivery, it can help your business to enhance user experience and maximize customer satisfaction.
Netmaxims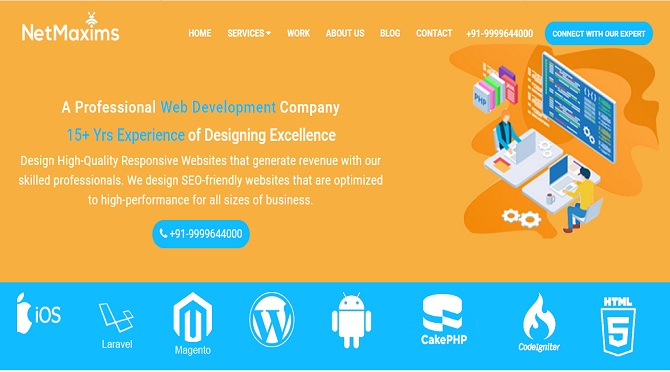 It is a web development company with over 15 years of experience in designing high-quality responsive websites that boost revenue for businesses. Be it small, medium, or large-scale businesses, the team has built SEO-friendly websites that are optimized for high performance. It is one of the best web development companies in India that has worked on projects for more than 2,000 clients across the globe. Their team of creative UI/UX designers is skilled at the latest wire-framing software such as Sketch, Adobe XD, Invision, etc. Moreover, web developers use the latest technologies to build efficient websites that help you reach your business goals.
The team at Netmaxims has worked with businesses across several industries such as e-commerce, travel & hospitality, real estate, e-learning, social networking, and dating. Mostly, users rely on mobile devices to browse the internet or buy groceries and other products. Hence, they focus on building responsive websites while also following best SEO practices.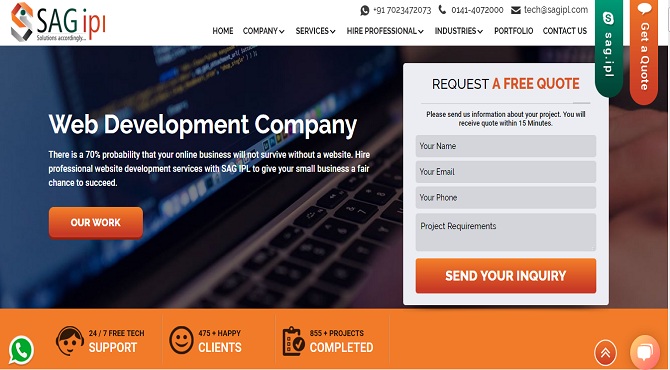 If you are planning to hire a professional website development company, SAG IPL could help you turn your business idea into a reality. With 10+ years of experience in designing and developing high-quality web applications, the team of skilled developers employed in this web development company can help you boost your business's online presence. Whether it is building your portfolio website, blog, developing apps, or even online marketing, skilled professionals at SAG IPL can help you meet all your business goals. They have worked with multiple clients and helped them to create a wonderful website that mirrors their business image and ethics.
The team puts all its effort to ensure maximum performance and facilitates an amazing web experience for your visitors. Some of the web technologies used by the developers at this web development agency include WordPress, Ruby on Rails, Yii, Laravel, Slim, Symfony, ASP.NET, Java, AngularJS, and more.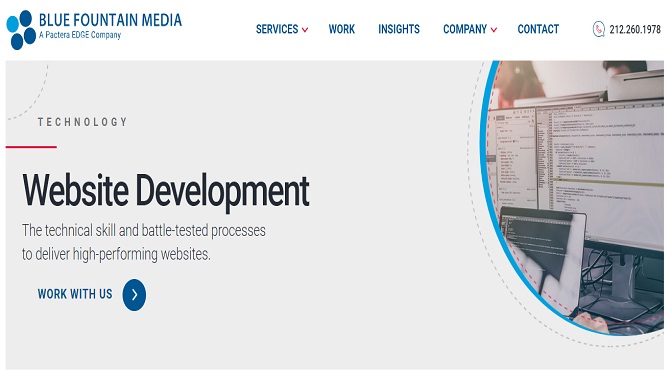 If you want to build your business into a brand by merging imagination and technology, Blue Fountain Media is one of the right web development companies, New York. The team at BFM specializes in creating high-performing websites for small, medium, and large-scale businesses. They have experience of working with well-known brands such as Microsoft, Sony, FedEx, and more. The technical excellence and the ability to build strategic partnerships are some of the processes that the team goes through to help you grow and drive your audience to action.
A quality website is a foremost touchpoint for users to interact with a business and an engine for business growth. A poorly designed website not only damages your brand but also hurts conversions. Most importantly, users nowadays have high expectations and are always looking for instant gratification. BFM can help you create websites that exceed users' expectations with appealing design and flawless user experience, leading to superior results.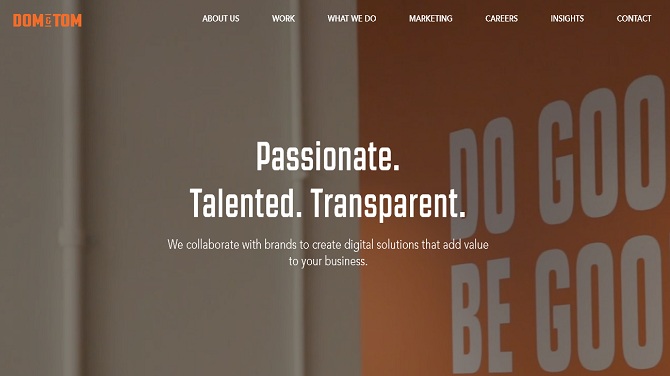 If you looking to collaborate with passionate and talented developers to build digital solutions that transform your business, Dom & Tom is one of the best web development agencies out there. Not only their finished products add value to your business, but they also help you boost your web presence. Their team of skilled developers has worked with everyone from established brands to growing start-ups. This web development company can help you create digital products of the future that not only meet but exceed your users' expectations. By working with your business for a long-term partnership, D & T helps you unlock all the digital opportunities for your brand.
With over 10 years of experience of successfully launching products, Dom & Tom is a full-service digital agency that offers a range of digital services such as strategy, user experience, visual illustration, app & web development, and quality testing. From ideation to website design and development to launch, it can help you with your project from start to finish.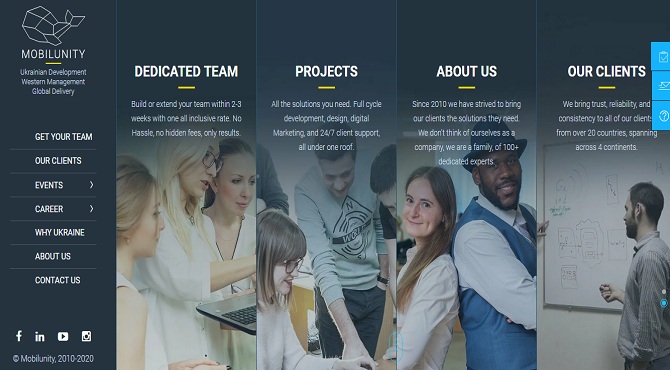 It is a web development company based in Ukraine that can help your business throughout the development process. Be it design, development, digital marketing, or 24/7 client support, this agency offers all the solutions that your business needs to succeed, under one roof. Their team of qualified developers can work on everything from static, yet appealing websites to complex, high-performing web applications. Some of their core competencies include flexibility and creativity to work on out-of-the-box projects that not only increase revenue but also ensure customer satisfaction. With experience in developing successful web solutions, the team uses the latest technologies such as HTML5, CSS3, Meteor, PHP, Symfony, AngularJS, Laravel, BackboneJS, etc.
The team at Mobilunity uses efficient and cost-effective practices to first analyze your business requirements and then incorporates the all-inclusive approach to develop a web solution that meets all your business needs. The best about this agency is the ability to deliver projects in the pre-defined schedule and regularly keep you updated on the progress.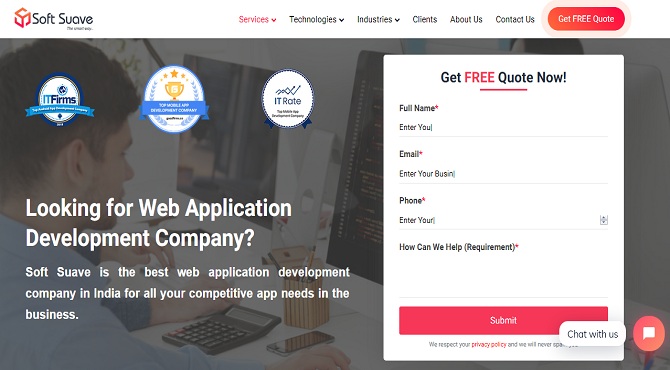 It is one of the top web development companies that deliver robust, engaging, and productive web solutions that drive conversions for your business. Be it front-end or back-end development, the team of talented developers at Soft Suave Technologies can help you run your business smoothly with superior web applications. They use the latest front-end technologies to create prototypes for mobile, web apps, and websites, while also ensuring that you get excellent products at a reasonable price. A team of 200+ software engineers works at this company and has built more than 1200 successful projects. Some of the essential qualities they ensure in their built applications include secure, superior performance, enhanced functionality, increased business impact, and intuitive customer experience.
The team at Soft Suave Technologies has experience in working with cutting-edge technologies such as Ionic, Python, VueJS, PHP, NodeJS, and more. They can help you with custom web development, building modern enterprise web apps, quality assurance, cloud-based web apps, and maintenance & support.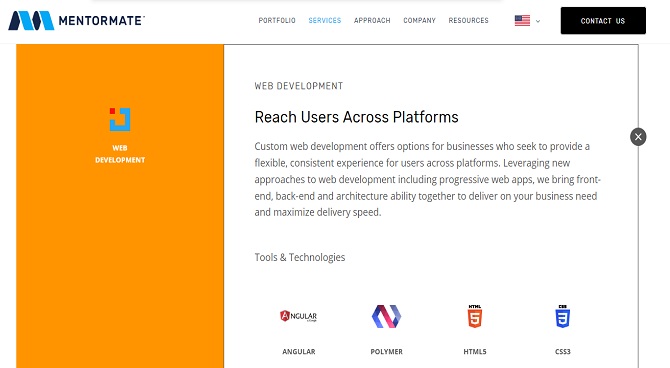 It is a custom software development company that can seamlessly collaborate with your team and uses total transparency to deliver your projects on time. Based in Bulgaria, MentorMate provides end-to-end web development services across several platforms and technologies. Its team of web developers will work with you to choose the ideal technology stack for your next project, be it for web, mobile, or cloud-based solution. To build innovative solutions, the team comes up with creative strategies and designs that ensure a smooth experience for the end-users. They can also empower you to fulfill your business needs by helping you find the best solutions and most efficient way to overcome challenges.
The team at MentorMate believes in building long-term partnerships with each client by working, learning, and collaborating on every project. They have put all their efforts into several successful projects across various industries, including education, healthcare, lifestyle, banking, sports, and more.
Conclusion: Although the market is saturated with a lot of web development companies, businesses can use the above web development company in the USA list to find their ideal choice. To ease the difficulty that most businesses go through when looking for the best web development company, we have collected and made this list of web services providers based on their past portfolio, reliability, and product delivery time-frame. An intuitive and content-rich website will not only give a boost to your revenue but also help you reach many other business goals.
Most importantly, before you make your final selection, it is also crucial to be clear yourself what kind of website you want. Is it an e-commerce website, a simple static website with your business information, a full-fledged web application, or a one-page landing page with your contact details. This helps you to get a clear picture of what you expect from a web development agency, enabling you to stay updated on the progress and reach your goals.