10+ Best Mobile App Development Companies you should hire in 2019
Best Mobile App Development Companies 2019
Are you looking for top-notch mobile app development companies in the world? In 2019, as mobile solutions have become absolutely vital to the success of a business, your selection of mobile app developer matters a lot. Last few years have witnessed tremendous changes in the way business is done.
Two years back from now, in 2016, the mobile app market was around $88 billion, and by 2020, it is expected to cross $188 billion. The tremendous increase in the number of smartphone usage by people is the driving force behind this revolution. The ease with smartphones, combined with security and speed is encouraging more and more people to switch to mobile devices for connectivity.
Let it be for personal use or for a professional purpose like banking, e-commerce, retail, you always need a flawless app for you to work efficiently and have high productivity.
As mobile apps are becoming vital, the selection of apps developer gains additional importance. The nature of mobile app development is such that the top-notch companies in the field are scattered all over the globe from the USA to Europe, India and South East Asia. From a long list of apps developing companies we carefully vetted, we have listed here the ones which we found were most innovative, agile and professional.
[Originally Published in March 2018, Last Updated on 05th Oct. 2019]
Appinventiv stands tall amongst mobile solutions giants. The company has developed 200+ world-class mobile apps for clients spread all over the globe. AppFutura ranked Appinventiv on no – 1 spot, which speaks about quality service it provides. Appinventiv excels in Andriod, iOS, Windows, HTML5 platforms. Few of the big brands working with them are SONY BMG, GSMA,supertech, pvc, The Economic Times.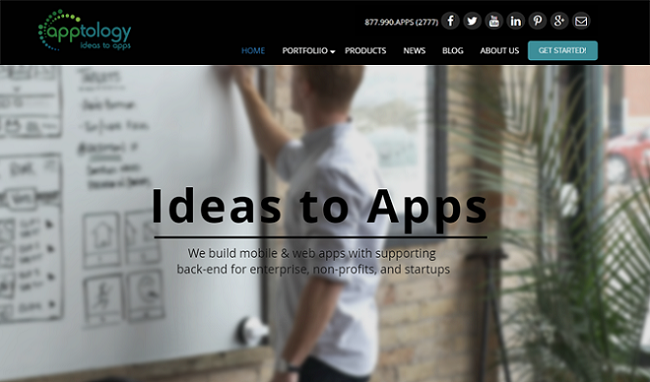 Apptology has been developing iPhone Apps almost since the beginning. With over 9 years of experience and over 300 apps, this company has gained a status for working on multifaceted projects for both the enterprise and startups. In addition, Apptology also develops Android apps and provide backend support services. Their skilled team can guide their clients from the idea stage to deployment and also warranty (for one year) that their work is bug free.
Based in New Hampshire, it gets counted amongst the biggest apps making companies of the world. They provide apps solutions for Android, iPhone, iPad, Windows Phone, Blackberry, Symbian, and WebOS. Zco is ranked as one of the best app developing companies in the Boston area by industry guides like Appindex and Clutch. Its team of experts is handpicked for mobile app development and design. It boasts to have worked with big names like Microsoft, Verizon, Samsung, Motorola and many more.
Headquartered in San Jose, USA, Clavax is inspired by excellence and prodigies. The professional team behind Clavax consistently keeps raising the bar of standards, delivering unbeatable solutions to its clients. The company has core expertise in providing mobile app solutions using technologies like Java, Python, ASP.Net, open source. Great work culture and flexible timing policy is what gives the company an additional edge.
It gets counted amongst those companies which posses great leaders and innovators which lead them through the path of success. It has offices spread across many states of USA. It is credited for bringing in a large amount of highly talented employees specializing in design, programming, project management, and marketing. They expertise in rich design, agile solutions, protrude marketing ideas. Their clients include names like HOB, American Express, and Verizon.
Established in 2001, it has launched more than 300 apps. It is located in Brooklyn, Bolder, and L.A and has a team of 50-100 experts. Fuzz has over 15 years of rich experience in almost every consumer and business vertical. Fuzz was selected by Forrester Research as one of the most significant vendors in developing and design of B2C mobile apps in 2016 by Forrester Research Their clients include names like The Met, Forever 21 and Shake Shack.
It is the UK's leading mobile apps providing company. Established in 2010, its main office is located in London. They work at providing smart and strategic services focused on smart and elegant solutions for their clients. Chelsea Apps Factory boasts about delivering many first to market apps and works on all the projects with ethics based on best apps development practices.
It gets counted amongst the biggest mobile apps developers in the USA and Europe. Ready4S was founded with a vision of converting the vision of businessmen into a beautiful reality in the form of apps. In 5 years of experience, they have developed and delivered more than 100 apps. They are based in USA, UK, and Poland.
It is a globally acknowledged mobile apps developing company providing world-class solutions for its clients. They have worked with enterprises and startups across all industries and have developed 500+ iOS, Android, and hybrid apps. Their clients include NASSCOM, United Nations, Nestle, Wonder cement, Project Action Star, Volkswagen. Konstant Infosolutions was ranked amongst the top 10 mobile app developers Appfuture.com.
Having been in the industry for around 10 years, OpenXcell is a team of professionals catering to the needs of customers with custom solutions and innovative user-friendly apps. With employee strength of 50-249, it is located in USA and India. Since its inception in 2008, the company has grown successfully with its world-class team of app developers and app designers. It is counted amongst the best app developing companies in the world. The company works to provide perfectly tailored solutions to its clients, for a more personalized experience for its customers, re-defining the way business is done.
Founded in 2007, it has been a leader in providing app solutions and is counted amongst best app developing companies in the USA. It's based in San Francisco, USA. It develops and designs app for few of the world's biggest brands, small-scale businesses and even for startups. They have a team with rich experience, deep understanding of design, develop and deployment, and are also fully committed to protecting the client's information they work with. They provide you with a responsive and functional app for android based devices.
Located in New York City and Seattle, Blue Label labs counts as an outstanding company when it comes to mobile apps development and marketing. Blooming in the industry for over 7 years, the company is credited to have successfully partnered with entrepreneurs, enterprises, and digital agencies in developing over 150 android and iOS based mobile apps. The 40 member strong, dedicated and talented team of experts behind the company is unmatched.
Located in Stuttgart, Germany, the company expertise in software development mobile solutions in areas of J2EE, Java, and Eclipse based on Docbook standards. With 17 years of rich experience and a team of 50-200 passionate experts,  the company can be called a reliable partner, both for mid-size companies as well as enterprises, as it works for responsive and result oriented solutions.
Founded in 2010, Zapbuild provides IT solutions for global clients. The company has a team of 51-200 dedicated designers and mobile app developers. At the Zapbuild the focus is on how to convert the client's idea into a valuable product. Right from conceptualization, development till deployment of the solution, the Zapbuild team guides the clients. Blooming for over seven years, the company has turned into a trustworthy name providing safe and secure apps to clients all over the world.
Tags: 10+ Best Mobile App Development Companies, Best Mobile App Development Companies, Top Mobile App Development Companies, Mobile App Development Companies, Mobile App Development
Please follow and like us: