So, you have a brilliant app idea and want to build the next big thing. The next thing many people usually do is a web search for the best mobile app development companies. You might even have been inspired by a lot of popular applications such as Facebook, Uber, Pinterest and others that provide quick solutions to their users. However, if you have a creative app idea in your mind, you will need to find the right team of mobile app developers who can build such innovative solutions. It is crucial that the agency understands your specific requirements and excel at building fast, flexible, and sustainable apps.
With the increasing demand for mobile apps and their ability to perform multiple functions, many companies that develop apps have found their niche. Mobile App development is technology-driven, which means they need to evolve as per the requirement of new features and trends. Nowadays, most individuals are mobile-driven and want all their necessities to be fulfilled in a click of a button. As the demand for productivity increases, there are mobile app development companies which might stand out of the rest.
The right mobile app development company will focus on building transparent business relation that is beneficial for both the agency and the clients. Such agencies can help to digitally transform your business without any hurdles during the initial stage. Apart from turning a simple app idea to real product and deploying it to the appropriate app store, an app development company can boost your revenue and profitability of your business. There are a lot of companies that can help your website and business reach its full potential and make a drastic change to your whole line of products.
As mobile apps are becoming vital, the selection of apps developers gains additional importance. The nature of mobile app development is such that the top-notch companies in the field are scattered all over the globe from the USA to Europe, India, and Southeast Asia. It could be hard to choose the top mobile app development companies, but with intense research and analysis, we have handpicked 10+ Best Mobile App Development Companies, which are listed below, along with some honorable mentions.
While choosing the right company for your project, there are some criteria that you can look into to ease the process. The factors such as support, compatibility, transparency, communication, and terms of payment ensure that you are moving in the right direction. The expertise and overall experience of the developers might help you to ensure that you are working with a legally registered agency. You will also need to do a lot of research and look at the specific skill sets of the developers employed by the company. Moreover, you can look at their portfolio and read the reviews given by past clients or even staff working at the company.
How to Choose the Top Mobile App Development Companies?
Having a mobile application has been an integral of running a successful business. Many businesses are putting all their efforts to find the right company that can help them build killer applications. While most large scale enterprises already have their application, startups and local businesses are still wondering about whether it is best to transform customer experience using a mobile application. A user-friendly, robust application on any platform – Android or iOS – can engage your incoming traffic and boost revenue source.
You may think that it is easy to find the right company to hire for your next mobile application project. In truth, if you are not aware of the criteria and requirements specific to your business, the whole selection process can be challenging. Fortunately, our list of top mobile app development companies can help you make an informed decision.
What are the Best Mobile Application Development Companies?
As mentioned previously, it is important to go through all your requirements and look for a company that can fulfill them. Some of the vital things to look out for include talented developers, UI/UX designers who can understand the demand of your target audience, and reliable testers.
[Last Updated on Jan 2023]
| | | | | |
| --- | --- | --- | --- | --- |
| Companies | Founded | Location | Rate | Contact |
| Apptology | 2015 | Dubai, UAE | $50 – $99 / hr | [email protected] / +971 54 445 7578 |
| Dot Com Infoway | 2000 | Tamil Nadu, India | < $25 / hr | [email protected] / +91 995-298-9843 |
| Appinventiv | 2014 | Manhattan, NY | $25 – $49 / hr | [email protected] / +1 – 646 – 585 – 0501 |
| Hyperlink InfoSystem | 2011 | Gujarat, India | < $25 / hr | [email protected] / 080001 61161 |
| WillowTree | 2007 | Charlottesville, Virginia | $150 – $199 / hr | [email protected] / +1 888-329-9875 |
| Cubix | 2008 | West Palm Beach, Florida | $25 – $49 / hr | [email protected] / +1 866-978-2220 |
| Zco Corporation | 1989 | Nashua, New Hampshire | $25 – $49 / hr | [email protected] / +1 603-881-9200 |
| Dogtown Media | 2011 | Venice, California | $100 – $149 / hr | [email protected] / +1 888-814-7010 |
| Y Media Labs | 2008 | Redwood City, CA | $200 – $300 / hr | [email protected] / +1-415-839-8584 |
| Blue Lable Apps | 2009 | New York, NY | $100 – $149 / hr | [email protected] / 2078905983 |
| FATbit Technologies | 2004 | Mohali, India | $25 / hr | [email protected] / 8591919191 |
| Dom & Tom | 2009 | New York City, NY | $150 – $199 / hr | [email protected] / +1 646-741-5049 |
| Fueled | 2007 | New York, NY | $150 – $199 / hr | [email protected] / +1-212-763-7726 |
| LeewayHertz | 2007 | San Francisco, California | $50 – $99 / hr | [email protected] / +1 877-801-8115 |
| Blue Whale Apps | 2006 | Herndon, Virginia | $100 – $149 / hr | [email protected] / +1 561-753-0776 |
| Ready4S | 2011 | Krakow, Poland | $50 – $99 / hr | [email protected] / +44 23 8097 0485 |
| Fuzz | 2001 | Brooklyn, NY | $150 – $199 / hr | [email protected] / (646) 832-2035 |
| Konstant Infosolutions | 2003 | Jaipur, Rajasthan | < $25 / hr | [email protected] / +1 310-933-5465 |
| Clavax | 2011 | San Jose, CA | $25 – $49 / hr | [email protected] / 1-844 425 2829 |
| OpenXcell | 2008 | Ahmedabad, India | < $25 / hr | [email protected] / 099982 22929 |
| Hidden Brains | 2003 | Ahmedabad, India | $25 – $49 / hr | [email protected] / +1 323-908-3492 |
| Instinctools | 2000 | Stuttgart, Germany | $25 – $49 / hr | [email protected] / +375 29 666-82-93 |
| Chelsea Apps Factory | 2010 | Bournemouth, London | $100 – $149 / hr | [email protected] / + 020 8057 8878 |
| Simpalm | 2009 | North Bethesda, MD | $25 – $49 / hr | [email protected] / 301-825-5351 |
| Zapbuild | 2010 | Mohali, India | < $25 / hr | [email protected] / +1 718-213-4425 |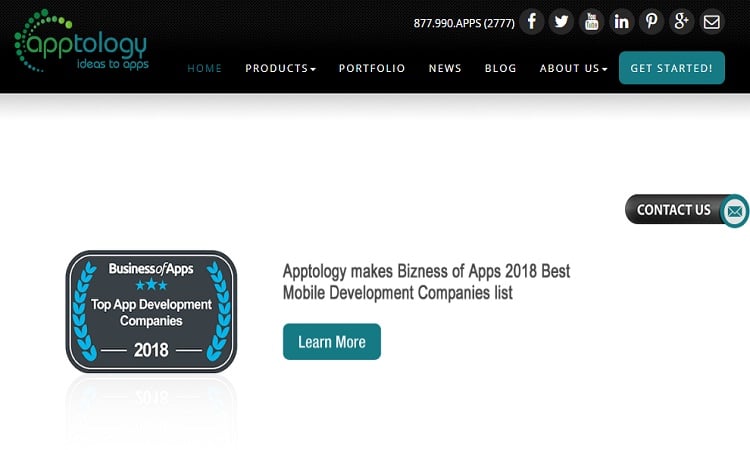 Based in Sacramento, California, Apptology is a mobile app development company that focuses on building custom applications on various mobile platforms including Android, iOS and Windows Phone. Apart from playing a key role in helping you develop the perfect mobile application, their team of app developers can also work on building the required backend resources. The team of over 100 developers, led by the entrepreneurs and industry experts from Silicon Valley, can assist you to develop and implement the perfect mobile-first strategy. They have developed hundreds of mobile applications and offered IT services for various clients ranging from real estate, emergency response service to medical apps.
Apptology has served several clients across the world by adapting their development life-cycle methodologies as per the technical specifications of a project. Starting from the ideation process to the product hitting the market, they will collaboratively work to manage all the phases of your project using the latest technologies.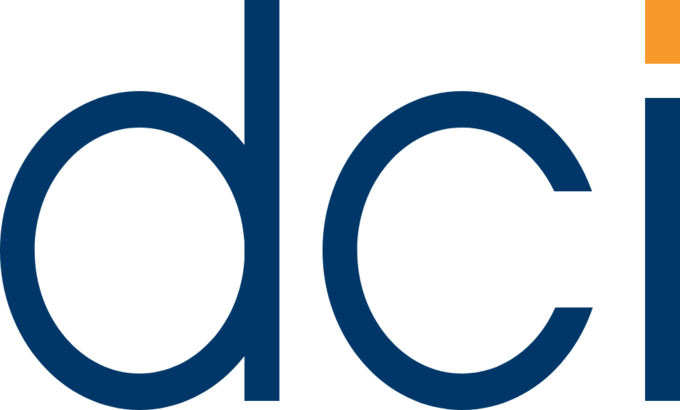 Dot Com Infoway is a globally recognized mobile app development and marketing company. With over 20+ years of industry experience in IT, we know exactly what it takes to create an engaging application that connects with the hearts and minds of your audience. We have expertise in developing apps across platforms, including Android, iOS, and Windows. We also design high-performing enterprise apps to streamline operations and optimize the supply chain for businesses.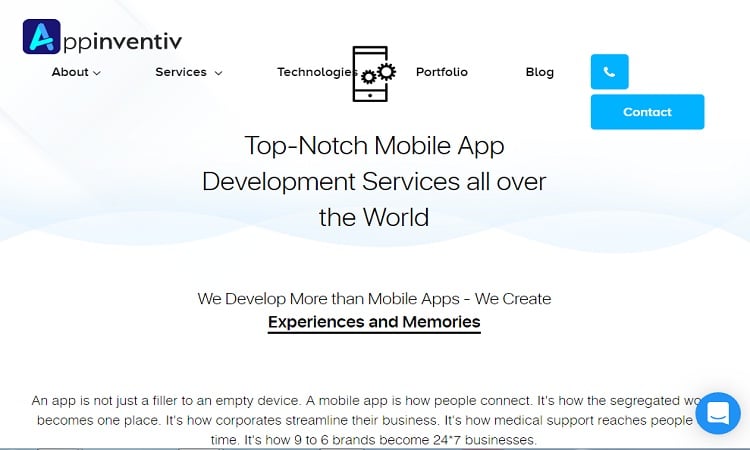 One of the top mobile app development in the USA and India, it can provide excellent developers for both iOS and Android platform. When businesses think about expanding into the mobile segment, Appinventiv's relentless pursuit of being the best makes them the perfect choice. They provide top-notch mobile app development services all around the world. Be it designing and developing Android, iOS or web-based applications, their mobile app developers can help you with their expertise in building successful and stable products.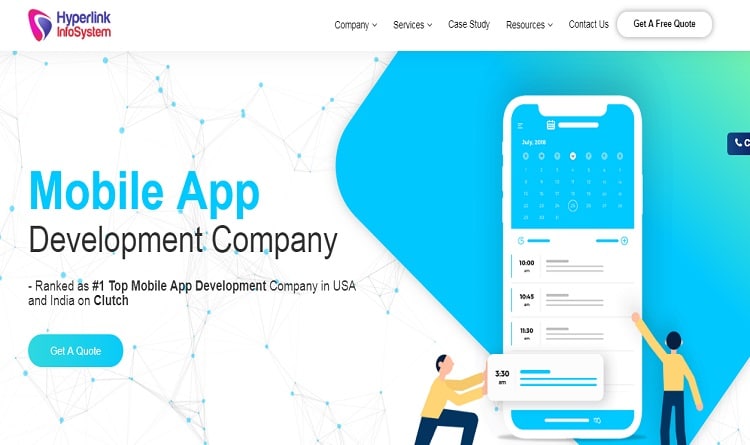 It is one of the top-notch, innovative companies in the USA which has mobile apps developers who are highly skilled and updated with the latest technology. It can help you build some excellent mobile application for your business and start-ups. Being one of the top developers of mobile apps, they have build apps for different clients across the globe.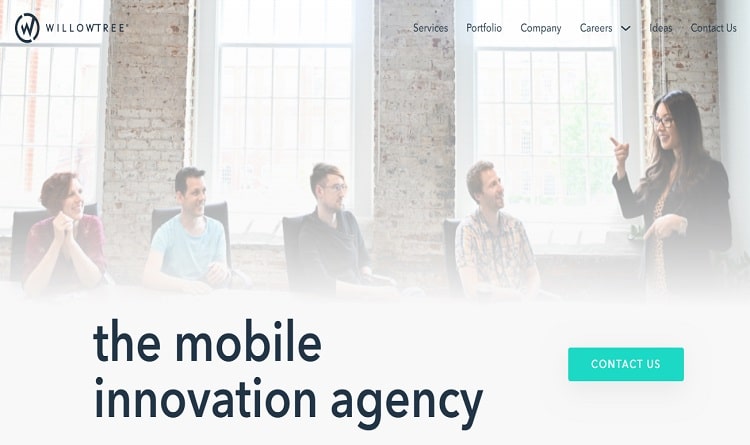 It is a corporate-grade app development company that creates products that drive growth for the world's leading brands. Their mobile app developers stay lean and efficiently deploy customized solutions for each client while also exceeding their expectations. For every project, they ensure overall growth for the client and offer every developer the opportunity to express their ideas for maximum output. Some of their custom app development services include iOS development, Android development, Mobile backend engineering, security and compliance, QA and testing, and more.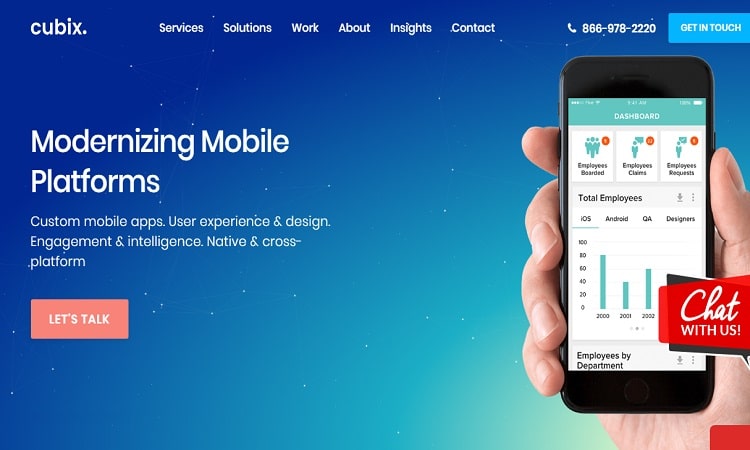 One of the top mobile app development companies, it can help businesses to unlock their full potential by integrating data repositories and content management system into a single system while also offering seamless user experience. This mobile app development company can build world-class apps across various platforms, including iOS, Android, and wearable. Cubix is made up of individuals who are motivated by a deep appreciation for creating elegant and functional applications.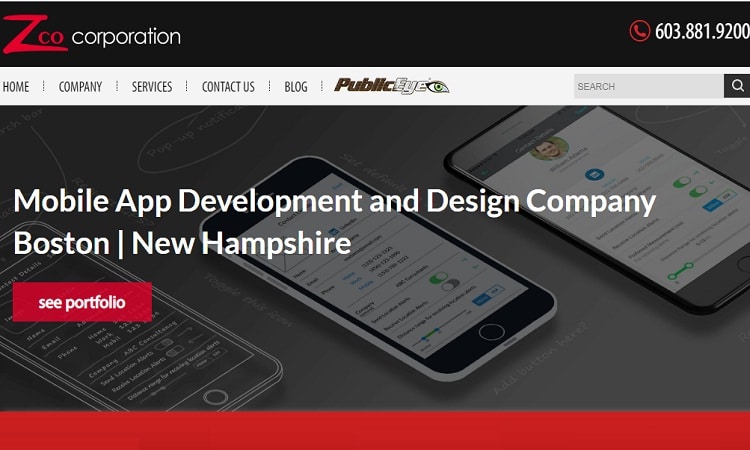 Zco is one of the top mobile app development companies based in Boston that specializes in custom software and mobile app development. According to the agency, they have worked for some of the big names in various industry including Samsung, Motorola, BBC America, Verizon, and Liberty Mutual. Primarily focusing on building custom software solutions, their clientele ranges from startups to entrepreneurial app creators to companies listed in Fortune 500. By being committed to excellent mobile app design and development, Zco Corporation has established itself as a leader among the best app development companies.
This mobile app agency employs more than 300 project managers, engineers, app designers, and developers from around the world. The development process for this agency starts with understanding the requirements and user stories of their clients. Next, the initial design of user-interface and wireframes is completed and the team moves on to planning & execution. Before the final release, rigorous beta testing & incremental release is done.
It is an end-to-end mobile app development company that uses a mobile-first strategy to turn promising concepts into successful mobile apps. One of the best mobile apps developers companies, they have created apps for every platform, including iPad, iPhone, and Android. Their design team creates innovative interfaces tailored to meet your needs. Starting from the concept to the product launch, their team of developers will ensure the smooth delivery of your app into the desired app store.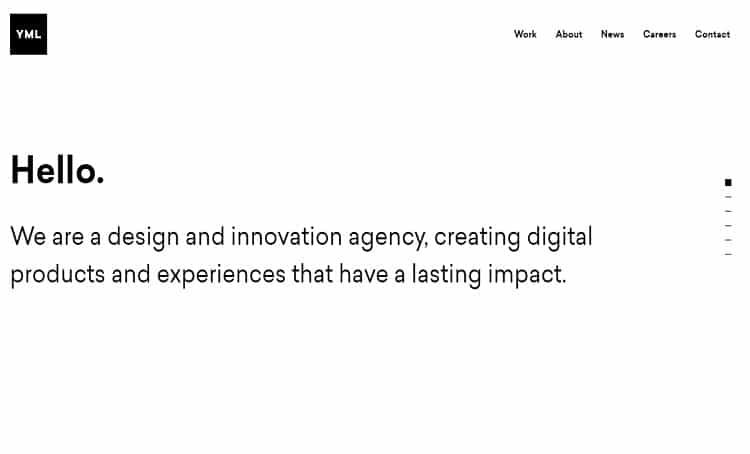 It is a design and innovation agency that can help you create digital products and experiences that will have a lasting impact. This tech company can help brands re-imagine their customer experiences through the use of next-gen technologies and world-class design. By creating value for your customers, the company aims to create value for your business. The team of dreamers and doers work together to make a difference for their clients, which range from early-stage start-ups to top-tier brands. Their team ensures that your customers get the best-in-class digital products and experiences.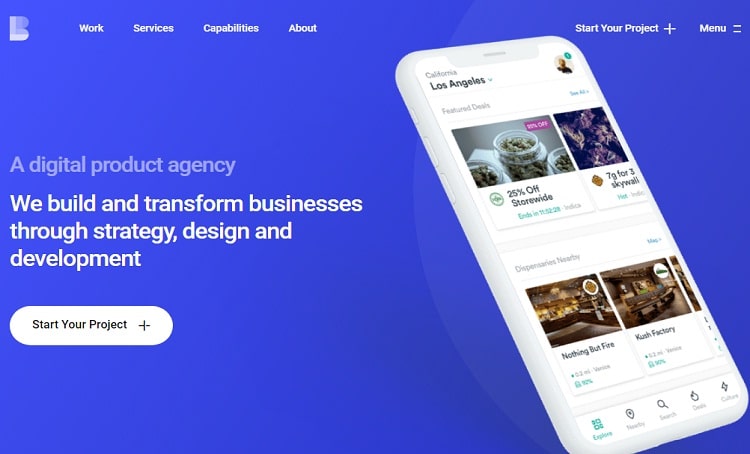 It is an award-winning app development agency that designs and develops the right app for the right users. By coming up with the best strategy and through their design and development process, Blue Label Labs transforms business and turn your vision into reality. Some of their latest projects include HowUdish which helps the user find the right dish, Muncheez which works as a marketing platform for the cannabis community, and Magic Money which is leading the cashless revolution with NFC-powered events and fairs. Some of the major technologies used by this mobile app development company are React Native, Firebase, Ionic/Cordova as mobile frameworks, cloud technologies like AWS and Azure, SQL and MySQL as database technologies, and more.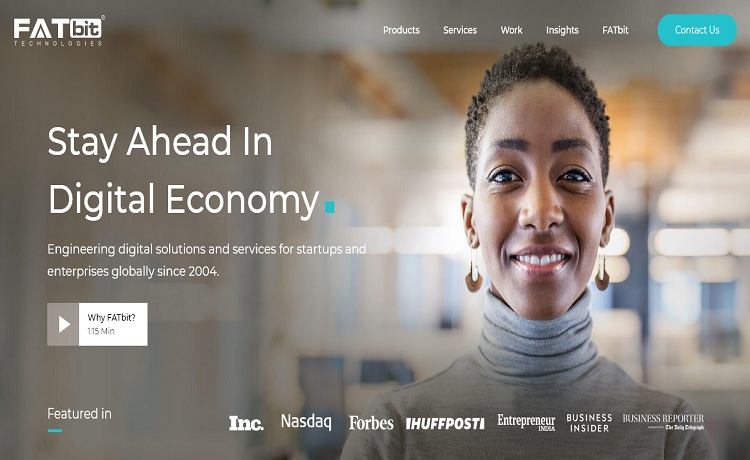 When we list the best mobile app development companies across the globe, FATbit Technologies strikes a clear position among the top runners. As a software solutions provider, FATbit has been engineering digital solutions with business services for startups, SMBs, and enterprises globally since 2004.
Embedding agile into every task-at-hand, integrity, quality, and affordability form the backbone of its offerings. Business consultation, design thinking, complete technology partnering for UI/UX design & optimization, web & mobile app development, and digital marketing together add value to businesses as well as communities. For mobile app development, the company offers services in Android app development, iOS app development, Hybrid mobile app development, and Enterprise app development.
Backed with an adept team of close to 200 industry experts, developers, designers, sales, and marketing professionals from various backgrounds, technological deliverables are mastered holistically. FATbit continues to serve with sustainable and transparent business practices, helping businesses surpass as well as outdo the most difficult of global scenarios.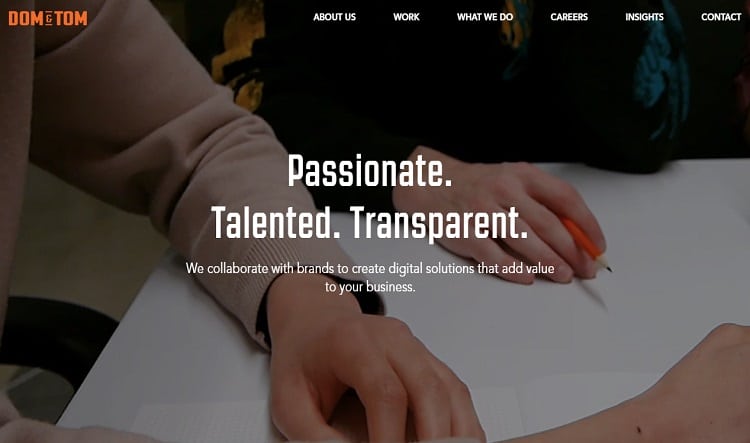 It is a digital product agency that can collaborate with brands to create digital solutions that add value to the overall business. From Fortune 500 companies to next-generation start-ups, they work to empower clients through custom-build solutions. This company is led by co-founders, who are driven by passion, innovation, and the successful collaboration of their team, clients, and users. Some of their service offerings include web development, iPhone, Android mobile development along with other emerging technologies. This is all supported by the dedicated team of nearly 100 employees spread across two major cities with offices in New York and Chicago.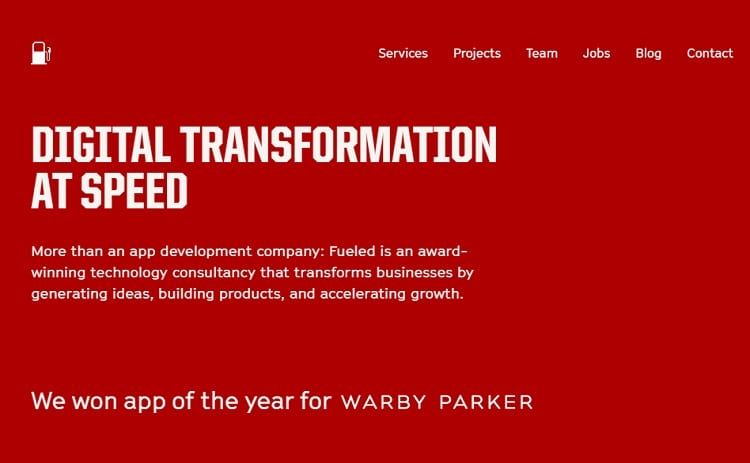 Apart from just an app development company, it is an award-winning technology consultancy which can transform your business by generating ideas, building excellent products, and accelerating growth. Their high-end infrastructure allows the developers to create great things that drive results for every client. When you utilize their full offering of services, your project will go through the design and build process and then through launch, growth, and iteration.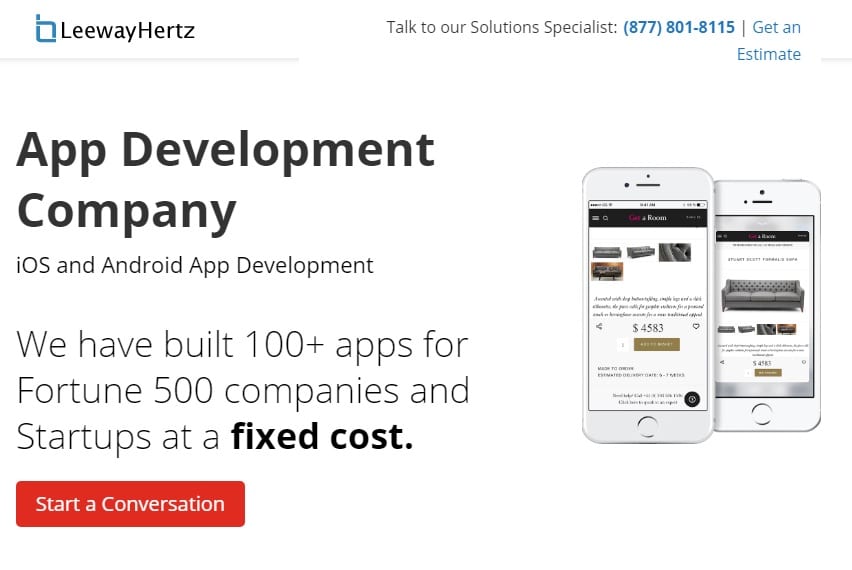 This software development company has expertise in a lot of fields including machine learning, internet of things (IoT), computer vision, blockchain, and web & mobile app development. With the experience of over 10 years, they have consulted, designed and developed hundreds of digital solutions for startups, small business, and large enterprises. Their award-winning iOS and Android applications are used by millions of users daily. As soon as you set up an appointment with them, you will get a call from the tech team during which you will get to share your app idea. Based on your project requirements, you will receive the cost and timeline estimates.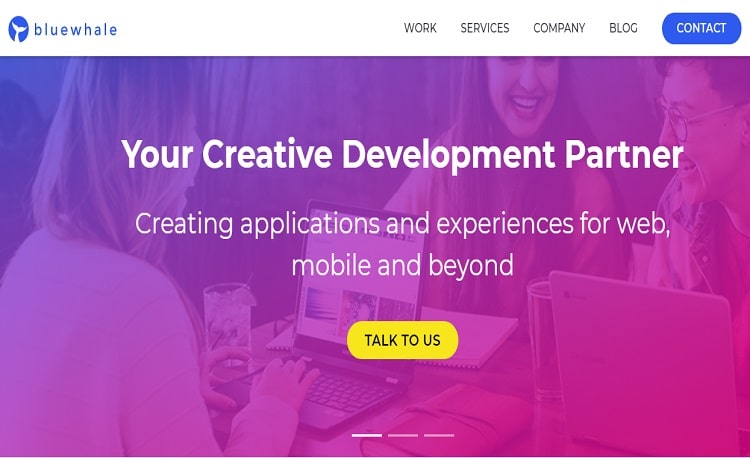 It can be your creative development partner to help you create apps and experiences for web, mobile, and beyond. It is a digital innovation company with technology at its core. The team of enthusiastic developers, creative designers, and strategic thinkers can help clients bring their idea to life. They can also help you develop and deploy custom-build applications that could meet your business needs. Overall, this app development company might enable you to thrive in the fast-pacing, dynamic, and modern technology world.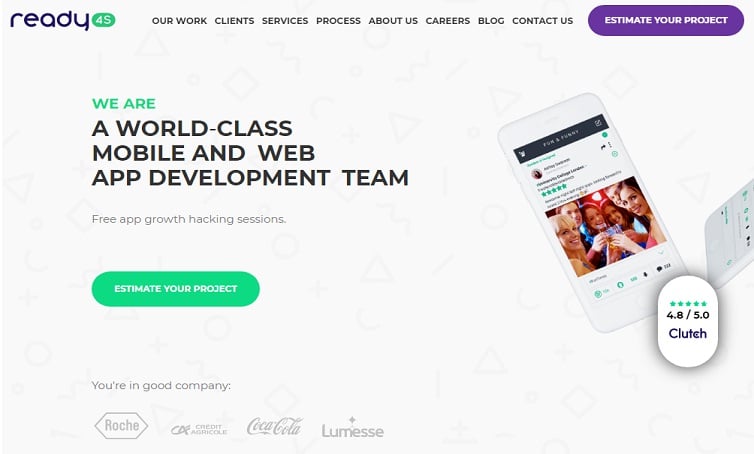 A world-class mobile and web app development company, it can provide a fast, flexible, and quality-driven development process. Their teams are experienced in building native mobile applications for both Android and iOS devices. To ensure that your projects are of the best quality, they can work using Swift, Objective-C, Kotlin, and Java. Their mobile apps developers team can provide both backend and front-end solutions for your project.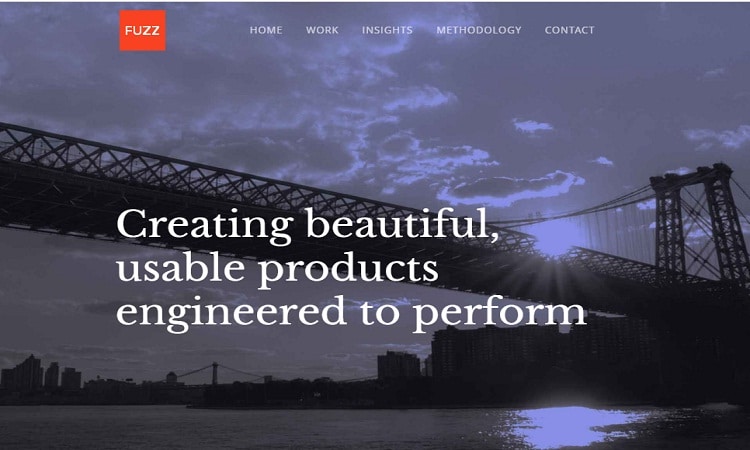 A Brooklyn-based mobile app development company, Fuzz can help you find new opportunities by diving deep into your accumulated data, users, and technology. They have a team of excellent strategists, designers and software developers who are passionate about creating next-gen applications and helping businesses thrive. Be it designing intuitive user experience or testing and optimizing your current mobile application, they can help you build distinct and powerful mobile-first solutions. The team understands that growth and success come from utilizing the existing data and continuously testing, measuring, and learning throughout the life-cycle of a product. They will leave an impressive mark on your users by creating and deploying apps of your choice.
It is a client-centric and innovative mobile app development company that can transform your business with their digital intelligence and expertise. They can deliver the perfect business outcomes faster than their competitors, while also enabling you to monetize your content more effectively. Their team can excitedly listen to new ideas from clients and create new levels of value through the client's businesses. Lastly, unlike other companies, they can collaborate with their clients as one across different time zones.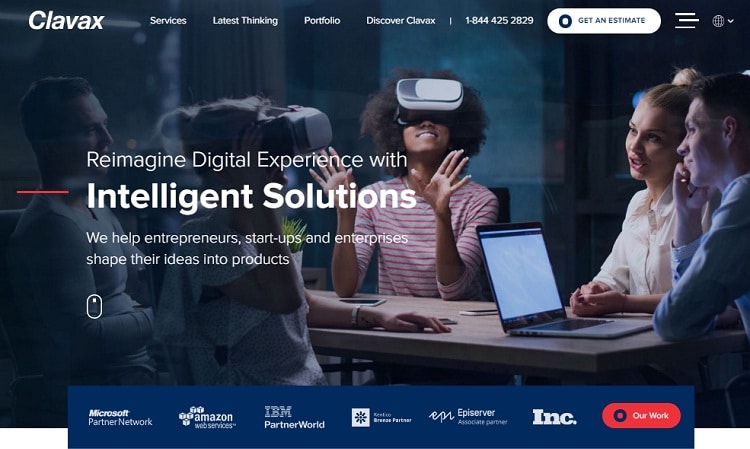 If you want to transform your app ideas into real products, it is crucial to pick the agency that can empower you with their technological expertise. To be the best in this competitive market, you need to take your digital strategy to the next level. It is important to utilize innovative strategies that add value to your business and develop a strong digital experience. The team of developers and strategist at Clavax has experience of working with various technologies including mobile app development, artificial intelligence (AI), UI/UX design, product design and engineering, and more. They can help you overcome your toughest business challenges by putting innovation-led ideas and technology-driven IT solutions to use.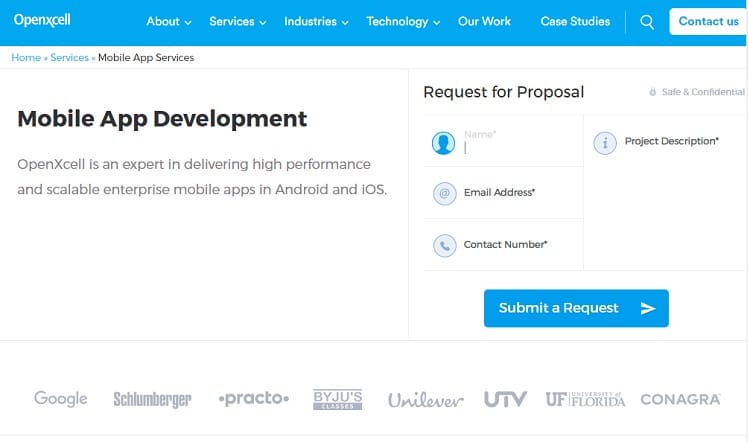 It is an all-in-one software development company prepared to address the emerging and established business models. Being an expert in mobile app development, it can deliver high performance and scalable mobile apps for both Android and iOS. In this mobile app development company, the team of software engineers, technology enthusiasts, and creative designers focus on delivering excellent software products to each client. Their mission statement is to deliver value and high performance to clients using excellent software products and technology innovation.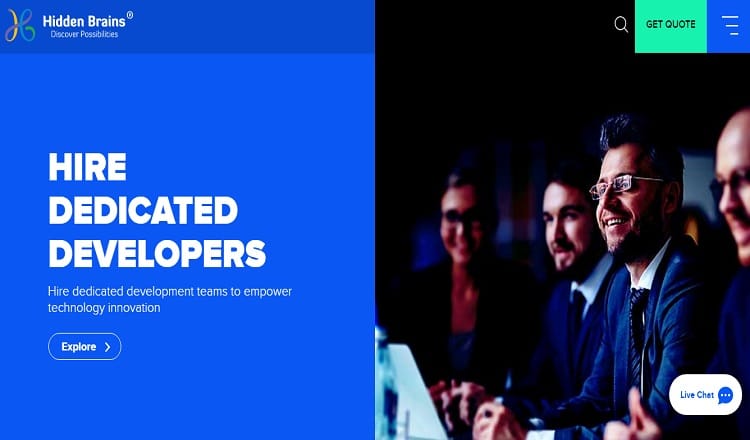 It is a web and mobile app development company that can develop holistic digital solutions for optimum performance. They have worked on everything from enterprise apps to innovative customer-focused apps and multiplayer games. They can help organizations start the journey of business and technology transformation to speed their way to success. The company aims to create new capabilities and respond to the technology needs of today and tomorrow.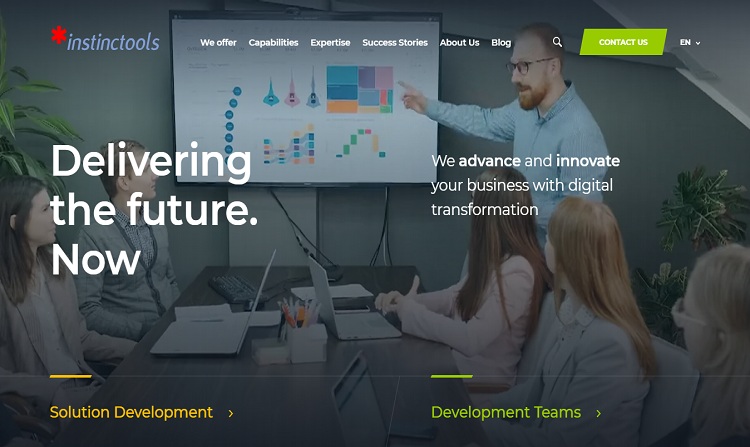 One of the top mobile app development companies, Instinctools can help to advance and innovate your business with digital transformation. The agency has developed mobile applications for businesses involved in various industries including education, healthcare, online media, e-commerce and more. From startups, small & medium-sized businesses and enterprise businesses, they have worked with businesses of different scale. iOS and Android along with hybrid-type are some of their platforms of expertise. To get an estimate of your project costs, you can simply drop an email and start working with them to build effective mobile-first solutions for your business.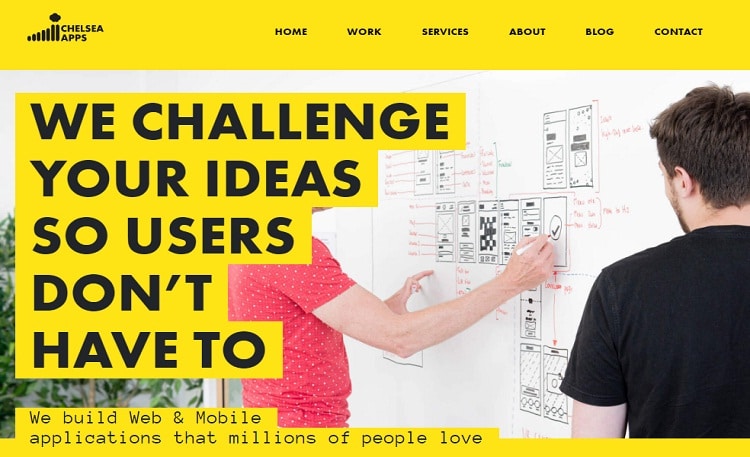 Based in London, it is a mobile app development company that specializes in building web and mobile applications loved by millions of users. From startups to large enterprises, they have worked with several clients to build apps that transform user engagement and overall interaction. Their team of talented developers follows an interactive approach to challenge your ideas and go beyond the comfort zone. Being one of the top mobile app development companies, Chelsea Apps can help you build digital products that transform your business.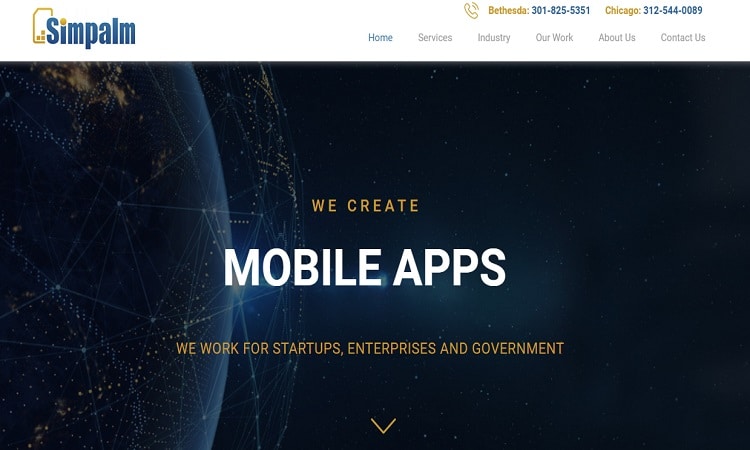 It is a mobile app development company that creates apps for start-ups, enterprises, and government. They have an award-winning team, which can accomplish your business goals with the help of native and performance-oriented mobile apps. Businesses often need to data-driven operations efficiently and enable mobile customers to request service from them. This is where Simpalm's expert team can streamline their workflow and handle customer request native apps.
To benefit from the potential of the mobile industry, every business needs to have a mobile app, be it on the Android or iOS platforms. Zapbuild is one of the best mobile app development companies that can help you develop robust, powerful and high-performance mobile applications. Their time-tested mobile app development strategy can take your business to the next level. The team of highly experienced developers at this agency follows the latest coding methodologies and programming practices to keep you ahead of your competitors in the industry. Some of the excellent benefits of choosing Zapbuild include highly skilled developers, transparency in overall procedures, and strict adherence to coding guidelines and industry standards.
Conclusion: I hope that this list of the best app development companies will help you choose the right one to help you turn your next mobile app project into reality. By launching an app for your business, you can not only improve your mobile presence but also build a new audience. Given the importance of the mobile platform and the increasing smartphone users, you should start your journey to enter the domain of mobile application. The app development companies in this list are selected based on their proficiency, experience, efficiency, and on-time delivery of projects.
If you wish to add your company to this list, kindly drop an email, and I will get back to you at the earliest. And, if you have worked with a company for your mobile app, you can also give them a shout-out in the comment below.