Time Tracking Apps – The most valuable entity in the universe perhaps be someone's Time, which never stops for anyone and it has been said that time heals all wounds Indeed when time changes either good can be bad or rich can be poor. Apart from this lecture on time, there is the enormous use of Time in this digital era; candidly it is called Time Management.
Best Time Tracking Apps To Increase Your Productivity in 2022
The word itself is expressible that time mana1ement is used to increase productivity in an IT firm, industry, factories or in freelancing, etc. When technology is escalating rapidly as well as changing simultaneously, to sustain the repercussion of the work, Time Management plays an imperative task. Globally, the theory of Time management and ways to supervise it or say to ply every microsecond of time wisely, the giant companies are following the theory.
In the digital era, where optimum work is done digitally or by electronic gadgets or with the manoeuvre of heavy automatic machines, time tracking apps or software is installed on PC's attached to them.
Time Tracking is becoming important in today's fastest quick running world. It's essential for all of us to hold track of time when the world is becoming more competitive and steadily changing along with new technological improvements.
You have to also adapt yourself with technology and for high productivity use some best time tracking apps and get ahead of your competitors.
What is the Time Tracking App?
A type of app used by discrete companies on their projects. Moreover, a simple app or software designed to record, track the time spent on performing a specific task. Earlier there was a timesheet where employees had to enter time spent on a task, nowadays for ease, this manual work is replaced by efficient software or app.
Why Time Tracking Application?
If you are a diligent person who is not getting enough rewards for his hard work and feel disappointed on the professional front. Then, It's time an introspection time for you to see where you are putting wrong steps and your competitors are getting ahead of you.
Well, Everyone has to handle various sets of incompetent circumstances at least some stage of their professional career.  It is a universal problem that not only faced by a freelancer or solopreneur. But the same could also happen even when you are a part of a big organization.
  Increasing Promotions, Range of Quality Products or Services is not Enough. Plan Sooner, Track Time & Boost Efficiency
Most of you will think of increasing promotions, increase your quality product and range of products or services you are offering to your customers. Yes, you are right. You can surely boost company profits by 20 to 30% but if it is about time then you might be unable to achieve it.
The reason for your failure is improper time management. You may have not considered track your hours and how to use your time productivity along with your goal. You can use your efficiency or your team productivity through some best time tracking apps.
Let's see the concept in a different way. Let's say, you are a freelancer or a business owner who has a goal to increase his profits by 20 to 30% within the following six months. How will you try to do it?
How to Increase your efficiency with Time Tracking Apps?
The Most manageable & easiest way to increase your workforce efficiency is to integrate your company with new time management apps. So, you can track a record of which employee working on which project and in how many days he had completed the given task. So, when it will be time for an appraisal. You can reward the right team or person for his/her hard work. This way, you can encourage other employees to do the same. You surely get the best result amongst the team.
There are multiple best time tracking apps and software that can help you to boost your business to a new level, increase your reach to a greater number of audiences. Here We are sharing the list of 10 most useful time tracking apps that will surely help you to get the leading position from your business competitors.
Lift Your Work. Follow the Best Time Tracking Applications:
In this section of the article, you will get to know about each individual time tracking application and some of its features. Let's get started…
[Last Updated on Aug 2022]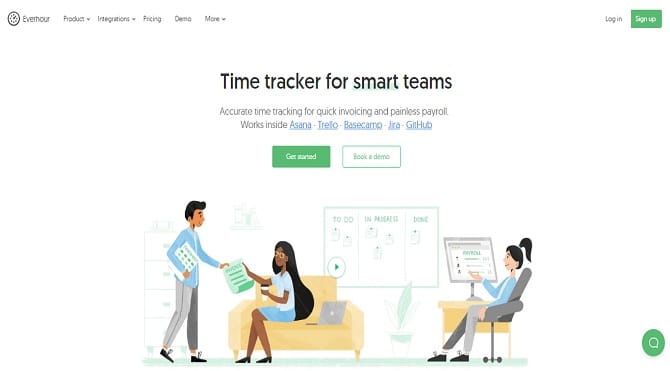 Everhour is a labour saving and pre-eminent time tracking app. The best features of Everhour app are:
Other than providing a time tracking facility, Everhour has various integration tie-ups so that, you can easily add & use other tools. Tools such as Asana, Click up, Basecamp, Trello, etc on a single platform.
You can also see a comparison between Everhour and Toggle or Harvest in which you can find that there are time estimation features and real-time approval facilities are also included in the Everhour app.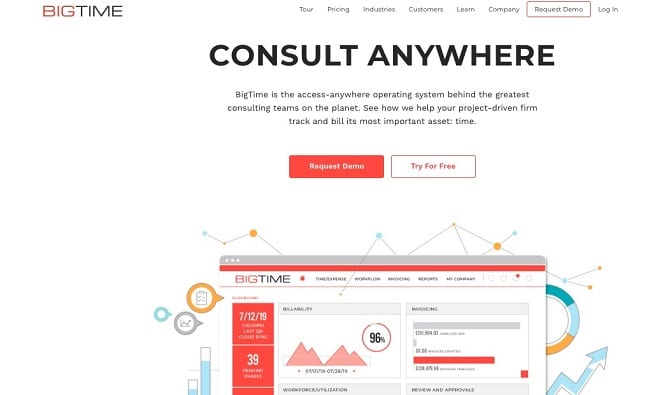 BigTime Software is more than just a time tracking app. BigTime helps accountants, architects, engineers, IT-services firms, and consultants with project budgeting and planning, time and expense tracking, and invoicing/payments – all backed by uber-cool reporting and analytics that take the guesswork out of utilization, capacity planning, and project profitability.

The best features of BigTime Software include:
Bill hours and create invoices with ease
Easily manage project progress with real-time dashboards and reports
Track time anywhere, anytime due to the cloud-based software
Keep a constant pulse on the status of projects by task, due dates, staff assignments, and more
Stay connected, even without wifi, using the mobile app on both Apple and Android devices
DCAA compliance for government contractors with built-in review and approvals for an impeccable audit trail
Seamless integrations with QuickBooks Online and Desktop, Lacerte, Google, Salesforce, Zapier, and more
Receive answers quickly to any questions you have via email, phone, live chat, and BigTime's Online Knowledge Base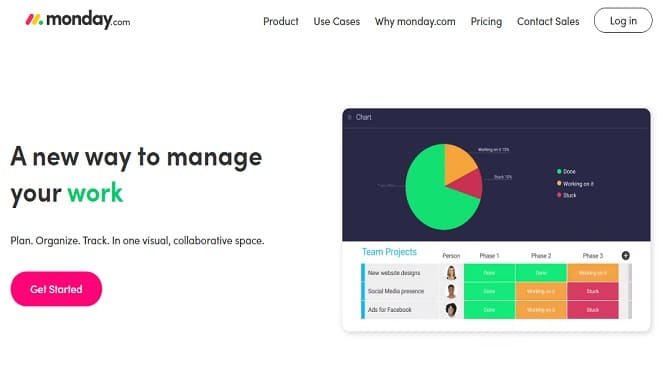 Monday.com time tracking app is an excellent option if you are looking for managerial work along with tracking your employee's hour. The best feature of Monday.com are:
Every member of the team can be easily added to the group and easily check its progress in real-time.
You can easily set up this application throughout your office.
If you are a manager and want to track your hours, you will have the facility to do it.
You can assign works directly to an individual or a team and check the progress of every individual or team.
You can add a repetitive operation on automation mode. So, you'll be notified beforehand and never have to care about forgetting important office meetups or client meetings.
You can sync your data easily with your subordinates.
You can also use their free templates.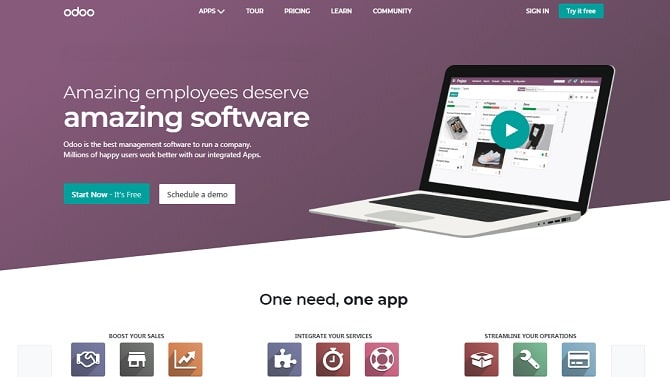 Odoo time tracker is an open-source time tracking app, which is designed especially for a small business that is aiming for Client relationship management(CRM), E-commerce and Accounting & Sales industry. The best features of Odoo app are:
Odoo has excellent User interfaces which make it a handy in use. Its simplistic features are mind-blowing. You can say that it is an All-in-One package.
Odoo also provides flexibility to include new apps. Easy integration, systematic maintenance of reports and records in the best feature of this application.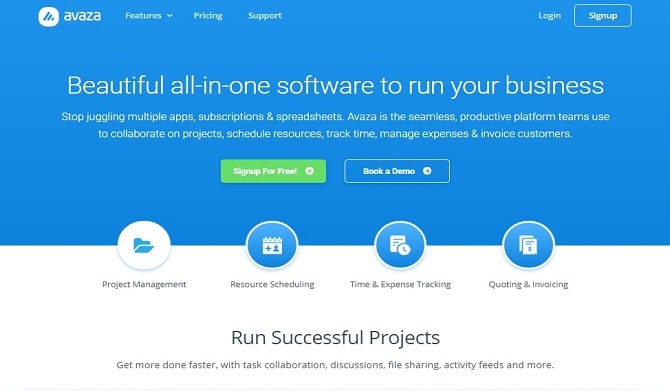 Avaza time tracking app is a good option for consulting companies. It provides a lavishing feature on an economized cost to client-focused businesses. The best features of Avaza app are:
You can track any hour of any employee through the Avaza app.
You can set automatic reminders for any important task.
You can prepare and share your project budget details with your clients and team members.
When the task or any project complete. You can have easy follow-ups options for payment tracking.
Note: If you are using a free demo version of the Avaza app then maybe some of its features are not available for you.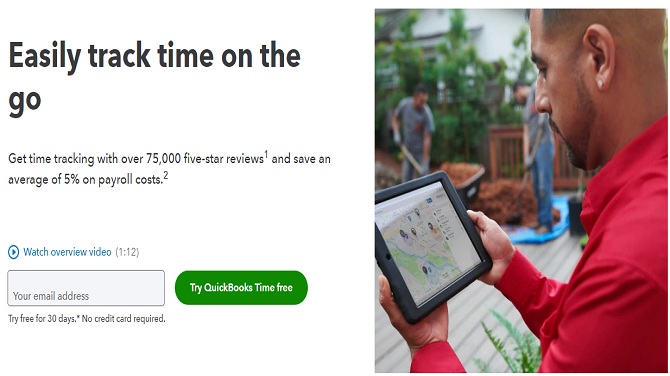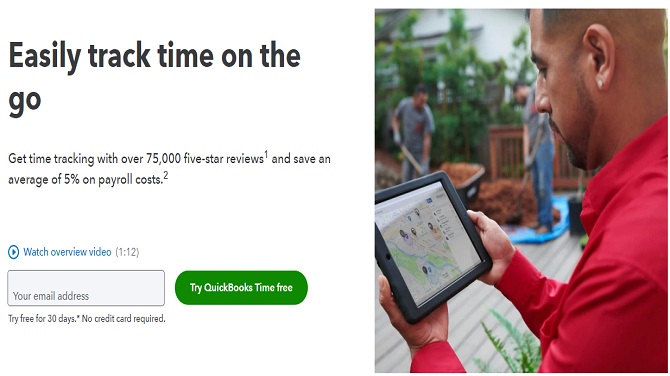 T-sheets is a server-hosted time tracking app. The T-sheets app gives you freedom from manual work, as if you are using this app you don't need to use excel sheets again. The best features of the T-sheet app are:
Your employees can log in through their phones for attendance.
You can track your Sales team members through the GPS facility.
You can generate reports regarding your Employee Attendance, Time Track Reports, and Project Estimation and Cost Reports.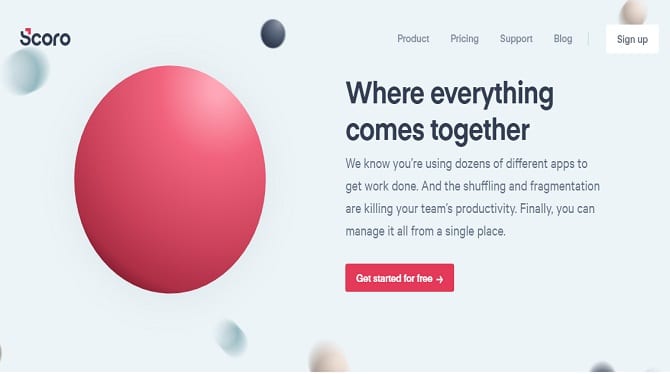 Scoro is a time tracking app along with professional management software used by business enterprises and individual freelancers. The best features of the Socor app are:
Scoro provides an instant platform to manage your employee's productivity.
You can include informative calendars along with projects, important clients emails & contacts.
You can easily update your daily tasks and assign them to your team.
You are working on a project, you will get to know project progress and deadline reminders, budgets, and share all details with the collaboration team.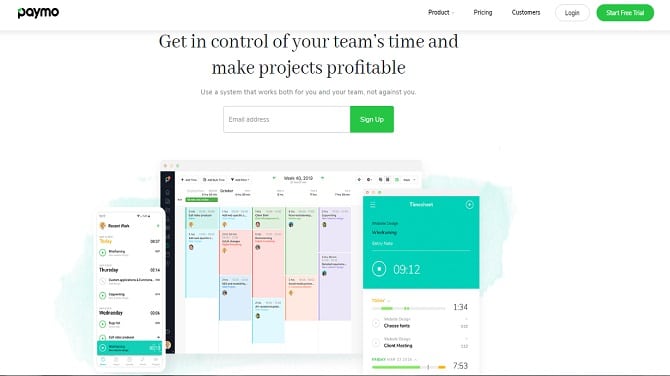 Paymo has recently launched a smaller version of its application. It has basic features but sturdy management tools and time tracking feature that allows you to work flawlessly. The best features of the Paymo app are:
You can easily target project progress & see results.
You can easily prioritize your projects according to convenience and the updates will be automatically shared with your team.
It has an automated function, which helps you to enter fewer data. So, you can focus more on your work.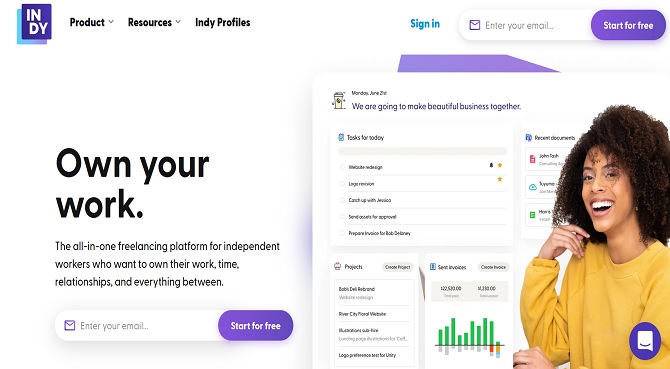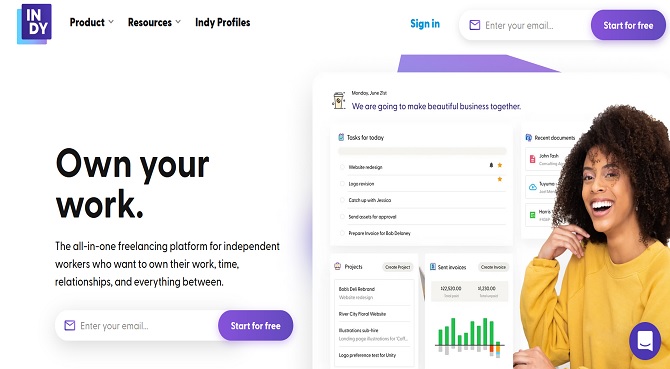 Whatever your work life is like, you can keep time on your side with Indy's time tracker app. Whether you're a billable employee or an entrepreneur, it takes some finesse to stay organized these days. Indy's clever tool has got this covered for you and then some! Have the timesheet at your fingertips and track hours until the work finishes. Then, the work is 'auto-magically' added to an invoice to bill the client.

Here are some outstanding features of Indy's Time Tracker:
Easy click on, click off clock management
Track multiple clients and projects easily
Add, edit, and remove hours at any time
Automatically add any unbilled hours to an invoice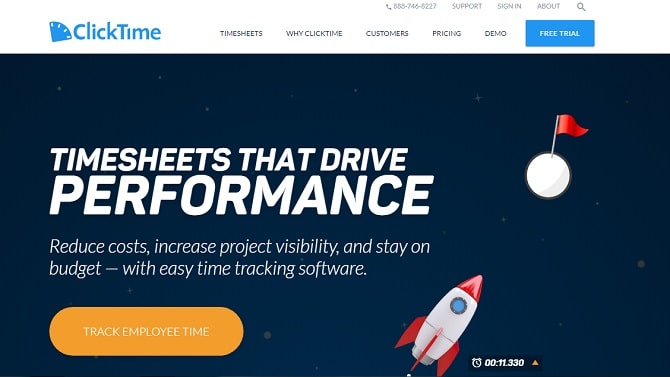 Clicktime app could be a perfect partner to guide you on the path of success. It can track your growth, time and expenses. The best features of the Clicktime app are:
Clicktime has smooth integration with its mobile applications & web services.
You can easily track your team member's work reports and vocational day-offs.
You can easily create your expense sheets and share them with management.
You can upload your expense vouchers through your mobile devices.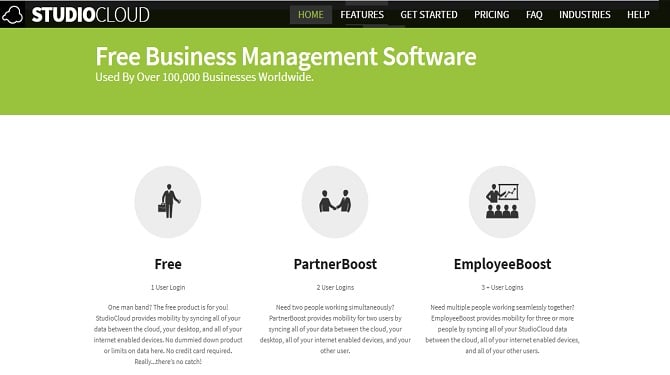 StudioCloud is totally free online cloud-based time tracking and management software. You can access your cloud account from anywhere, using your phone, tablets or laptop. StudioCloud app tracks your every minute & seconds. You can add it to your browser homepage and boost your work performance. The best features of the StudioCloud app are:
f you are a single-user, then StudioCloud will provide free account services.
You can manage your team members.
If you work on a global scale, you can check and access information about any country's tax services and currency rates.
You can generate new leads for your company and level-up your profits.
Drawback: There is no tech support available for a single (Free) user account. But you can ask for help in their community help center.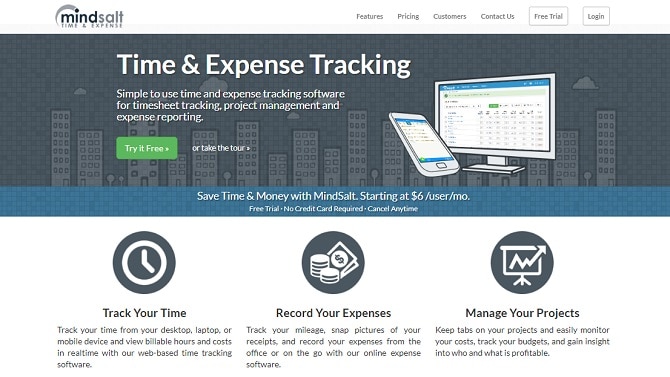 Mindsalt is an online web service that helps the admins to get track of team members' time and expenses. It is quite a hectic work if you work physically but mindsalt makes it easy for all administrators. Through mindsalt online service you(as an admin) take benefits of various features:
You can hold control and easily assign duties.
You can see your project cost and expenses.
You can compare the estimation cost and real-time project expenditure.
You can download the profit summary.
How Many People prefer Using Time Tracking Apps?- Reviews and Comments
If you still speculating about your performance or efficiency. Here we are sharing graphical data regarding tracking apps active users and their reach to the number of countries. So, you may know how many people really using time tracking app or software

.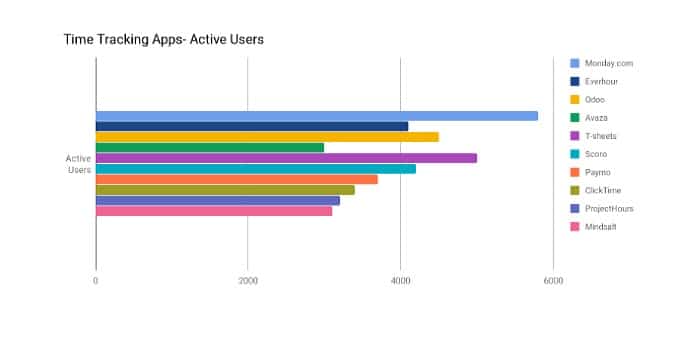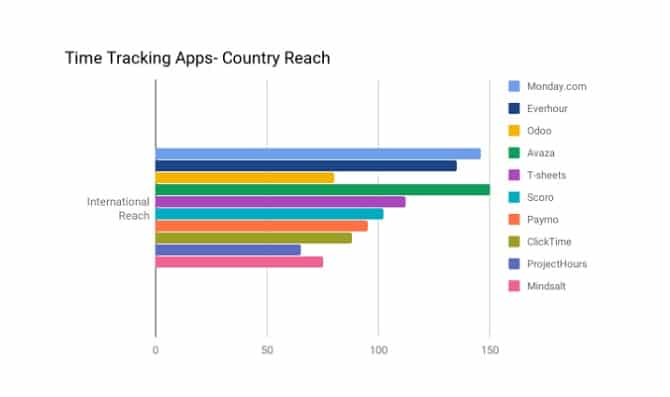 The above shared graphical data is genuine and can be cross-checked through their respective time tracking application website. We hope after going through this article. It will be easy for you to decide which time tracking app will be the best option for you. So enjoy being productive and stay efficient.

Tags: Top 10 Time Tracking Apps, Best Time Tracking Apps, Best Time Tracking Software, Time Tracking Apps, Best Time Tracking Software, Time Tracking Application, Top Time Tracking Apps, Top Time Tracking Applications, Time Tracking Applications